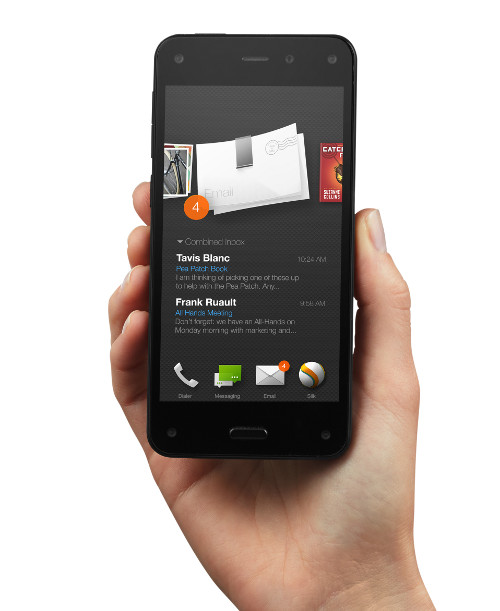 Today Amazon unveiled their first smartphone. It's called the Fire Phone, another branch off of Amazon's Fire branding from their tablets and TV box.
The Fire Phone is sort of like a mini Kindle Fire tablet in some ways, but it brings a lot more features to the table, both hardware and software, and even includes a few new reading features.
As expected, the device is heavily integrated with Amazon's ecosystem for video, music, ebooks, and apps. Plus it comes with a free year of Amazon Prime, for a limited time.
Amazon didn't skimp on the hardware of their first phone; it has a nice healthy spec sheet. It's powered by a Qualcomm Snapdragon 2.2GHz quad-core processor, with 2GB of RAM. It has a high-end 13MP rear camera with optical image stabilization and LED flash. The screen is a 4.7-inch IPS display with a resolution of 1280 x 720 (315 ppi), and as expected the device features a 3D display.
Amazon calls it "Dynamic Perspective". The phone can track your eye movements and adjust the screen images accordingly.
Other features include Gorilla Glass 3, a rubber frame, aluminum buttons, dual stereo speakers with Dolby Digital Plus virtual surround sound, 590 nits screen brightness, tilting sensors, and it comes with premium earbuds with stay-flat cables.
Battery life is rated at up to 22 hours for talking, and up to 11 hours for watching video.
Amazon has added some nifty software features to the Kindle Phone. They introduced this thing called Firefly. It's a recognition program that can recognize over a hundred million different objects, including music, TV, art, bar codes, items from the store, etc. Mayday is also onboard for instant customer support.
There's a new scrolling feature for reading Kindle ebooks. You can set auto scroll or use the device's tilt sensor to turn pages. This works for scrolling with the web browser too.
The Kindle Phone is exclusive to AT&T for coverage. The device costs $199 for 32GB, and $299 for 64GB. Without a service plan it costs a wallet-emptying $649. The Fire Phone is available for pre-order at Amazon and will be released on July 25th.