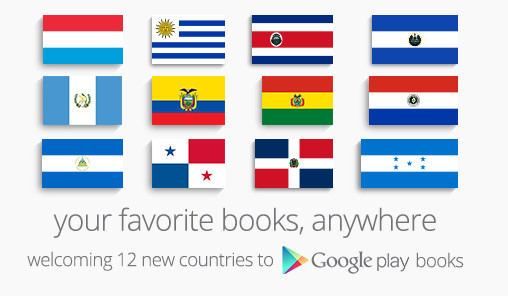 Google has been busy expanding their ebookstore internationally this month. First Norway was added to the list in early June, then 12 more countries were added yesterday, bringing the total up to 57 different countries and provinces (see list below) that can now get ebooks through Google Play.
Google's ebooks are available on the Google Play Books app for Android and iOS devices. The books can also be read from a computer using a web browser. The ebooks get synced across multiple devices, so the book is always in the right place where you left off.
Additionally, Google's ebooks can be downloaded in ePub and sometimes PDF formats to read on ereaders and other devices that support Adobe DRM. They have some DRM-free ebooks as well that can be downloaded without Adobe Digital Editions.
Google supports uploading your own ePub and PDF files to your account too, so that you can access them from your Play Books library to read using an app or web browser, but they have to be unencrypted DRM-free ebooks.
Google boasts a selection of over five million titles in their Play Books ebookstore, including millions of free ebooks.
Here's the list of supported countries and provinces:
Argentina
Australia
Austria
Belgium
Bolivia
Brazil
Canada
Chile
Colombia
Costa Rica
Czech Republic
Denmark
Dominican Republic
Ecuador
El Salvador
Finland
France
Germany
Greece
Guatemala
Honduras
Hong Kong
Hungary
India
Indonesia
Ireland
Italy
Japan
Luxembourg
Malaysia
Mexico
Netherlands
New Zealand
Nicaragua
Norway
Panama
Paraguay
Peru
Philippines
Poland
Portugal
Romania
Russia
Singapore
South Africa
South Korea
Spain
Sweden
Switzerland
Taiwan
Thailand
Turkey
United Kingdom
United States
Uruguay
Venezuela
Vietnam