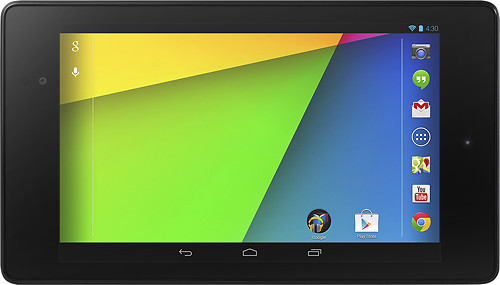 There have been tons of deals on Android tablets lately, even some as low as $7.99. Possibly the best deal of the month is ongoing right now.
The 16GB 2nd gen Nexus 7 is available via eBay for just $129. That's $100 off the retail price of a new one.
These units aren't new, they are refurbished. These particular devices have been re-certified by Asus and re-packaged in an Asus factory. They come with a 90-day warranty from Asus, and are being sold by an authorized Asus distributor.
The 2nd gen Nexus 7 is one of the best 7-inch Android tablets on the current market; in fact it probably is the best overall. The only chink in its armor is the lack of a memory card slot. Everything else is top of the line.
The Nexus 7 has a 7-inch 1920 x 1200 resolution display. It runs Android 4.4.4 KitKat and is powered by a quad-core 1.5 GHz Snapdragon processor. This model has 16GB of internal storage space, 2GB of RAM, Bluetooth, Wifi, NFC, wireless charging, and it has a 5MP rear camera and a 1.2MP front-facing camera.
All in all, that's a lot of tablet for $129. The funny thing is it's been out for almost 1 year now, and it's still better than all the new 7-inch tablets being released. Google doesn't even need to come out with a new model this year; they can focus on releasing a new 8 or 9-inch Nexus instead.
via: Slick Deals