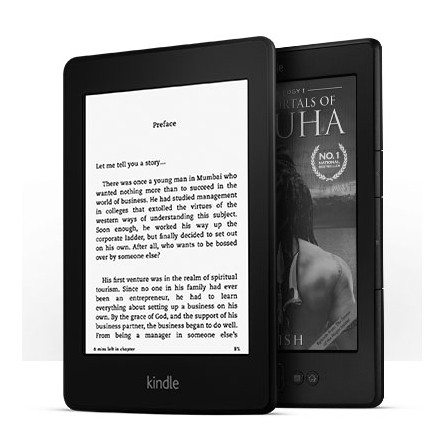 News is coming out today about a new marketing technique that Amazon is using to sell Kindle ebook readers in India. The promotion seems rather odd to those of us in the United States; it's interesting to see how differently things work in regard to Kindles in other countries.
Amazon India is giving customers the option to buy a Kindle ebook reader, the basic non-touchscreen Kindle or the Kindle Paperwhite, and use it for 15 days risk-free, at which point customers can send it back for a complete refund if not totally satisfied with the product.
If you're like me you're wondering how this a new, and why 15 days is supposedly a good thing?
Amazon has always offered the same risk-free offer in the US, except customers get 30 days to return a Kindle for a full refund if they aren't satisfied with it for any reason. You might have to pay a little for return shipping, but it's usually only a few bucks.
It turns out in India, the standard Kindle return period is only 7 days. And you can only return it if the package is unopened. Once opened, you can not get a refund at all.
So this promotion is actually a lot better than it sounds on the surface. People in India can buy and use the Kindle for 15 days and then get a full refund if they don't like it.
But the promotion only lasts for two weeks. The offer expires on July 23rd, 2014.
I never knew how different Amazon's policies were in regards to selling and returning Kindles in other countries. It's interesting how much more strict they are in some countries.
We've got it really good here in the US. We can buy and use any Kindle ereader or tablet for 30 days and then return it for any reason and get a full refund, as long we don't damage it during that time.
In fact, it would seem that we can use a Kindle for a full year and then still get a full refund. Last fall I bought the Kindle Fire HDX to review, but after 4 weeks of not using it I knew I wouldn't have the time to do any reviews and decided to return it. The return window is 30 days, but then I found that the deadline to ship it back to Amazon wasn't until October 2014. I'm not sure if that's Amazon standard way of doing things, hoping that you'll forget about it, or if it was some kind of one-time error. Either way I plan on calling their bluff and waiting until October to send it back.