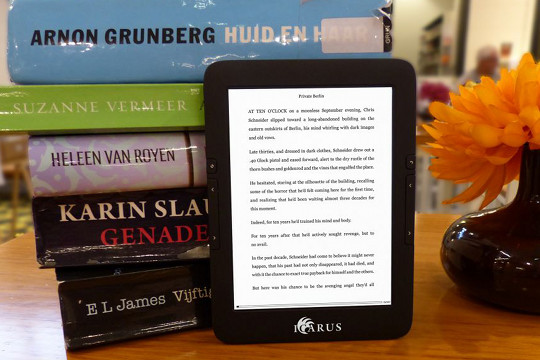 The Dutch ebook reader company, Icarus, has announced the upcoming release of a new Icarus Illumina ebook reader. It's an updated version of the Icarus Illumina HD, and sports a faster processor, more RAM, and a smaller and lighter design.
The new Icarus Illumina has a 6-inch E Ink Pearl display with a resolution of 1024 x 758. The device also has a frontlight to illuminate the E Ink screen at night.
But the most interesting detail about it is that fact that it's the first ebook reader to run Android 4.2.2 Jelly Bean. That's a newer version of Android than on other E Ink devices, such as the Onyx Boox T68 with Android 4.0.
What's more, the Icarus Illumina's operating system is open so it can install a number of Android apps. Icarus claims reading apps such as Kindle and Kobo can be loaded onto the device. However, reading the description closely it sounds like the device does not come with Google Play onboard to install apps like the T68. The description says that users can install apps with a file manager (APK installer). Some pre-installed apps include a web browser, RSS reader, file manager, email client, and Dropbox.
Other features for the device include a capacitive touchscreen that supports 2-points touch for pinch zooming, it has Wi-Fi, a 1Ghz dual-core processor, 512MB of RAM, and a microSD card slot. In addition to the touchscreen, there are page buttons on both sides of the screen
The new Illumina (E653 series) is available in three colors: black, white and red. The device sells from Icarus's website starting at 120 euros, a competitive price considering that the 6.8-inch Boox T68 sells for 180 euros. Right now it's up for pre-order and will start shipping next week. Icarus sells some of their ereaders on Amazon.com, so I asked if they plan to sell this model on Amazon too. I'll update this post when I hear back.
Icarus Illumina Specs
6″ E-Ink Pearl HD, Capacitive Touchscreen, resolution 1024×758 pixels, 16 greyscales.
Front Light: integrated light, adjustable in many steps (light can also be turned off completely)
Wi-Fi 802.11
4Gb internal memory, expandable via micro SD card up to 32Gb
Lithium Ion battery 2000mAh, up to maximum 6000 page refreshes on one full charge
Page turning buttons on both sides of the screen
Supported formats: TXT, PDF, EPUB, PDF, FB2, HTML, RTF, MOBI, DJVU, CHM, IRC, JPG, BMP
Dimensions 168 x 118 x 9mm., weight 197 gr.