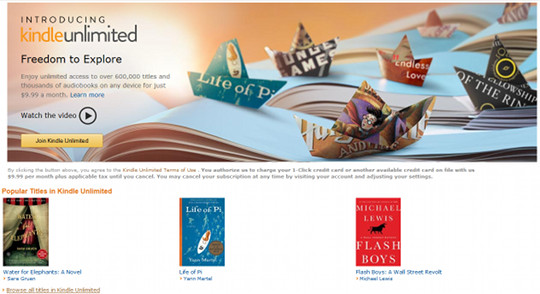 It looks like Amazon is going to get into the ebook subscription service business in the near future, and it's likely to include audiobooks as well.
There's been no official announcement from Amazon just yet, but there's a story at Gigaom with very compelling evidence that Amazon is close to revealing a new service called Kindle Unlimited, an ebook subscription service for $9.99 per month.
For a brief period of time this morning, Amazon was caught testing new web pages that revealed their plans for Kindle Unlimited. Amazon has since taken the pages down, but the main Kindle Unlimited page can still be viewed using Google Cache.
If you click the link to view all available titles in Kindle Unlimited, it takes you to a page that still exists and is labeled "KU Test".
Right now there is 638,484 titles available on the list. There's even a section for Whispersync for Voice, which includes 7,346 titles. That would suggest that some audiobooks are going to be offered as well.
Amazon already offers ebook lending to Prime subscribers that own a Kindle device with the Kindle Owners' Lending Library, but only one title per calendar month can be borrowed. Right now it looks like that list of ebooks is similar to what will be offered through Kindle Unlimited. The overall number is close to the KU Test list, with 614,931 current titles.
It makes sense for Amazon to open up lending to a wider audience and start charging for it specifically. It looks like anyone with a Kindle or Kindle app with be able to subscribe to Kindle Unlimited for $9.99 per month and get open access to as many ebooks and audiobooks as they want.
Several companies have started offering ebook subscription services, such as Oyster, Scribd and Entitle, over the past year; it was only a matter of time before Amazon got onboard with the idea as well—now if only they can convince some big-name publishers too (that's probably what's delaying the announcement).