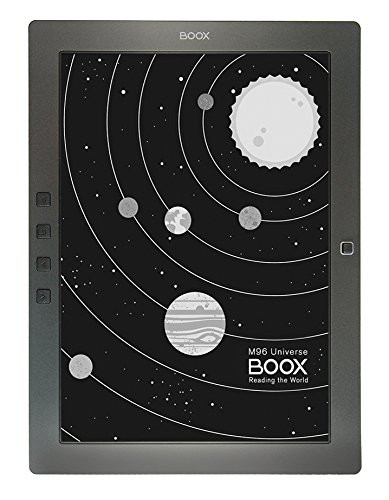 The folks at Arta Tech have started selling the Onyx Boox M96 Universe from Amazon.com for $339, and they even sent me one to review. The device is also available from Onyx-Boox.com for 309 euros.
That's the same seller that distributes the Onyx Boox T68 Lynx, which I reviewed last month. The M96 Universe is a similar reading device, but with a larger 9.7-inch screen as opposed to the 6.8-inch screen on the T68 (there's also an 8-inch Boox i86 model upcoming too).
There are a couple of other differences as well. The M96 lacks a frontlight (apparently they have yet to be perfected for larger E Ink displays) and it has an electromagnetic touchscreen that requires the use of a stylus instead of a finger-friendly capacitive touchscreen.
Other than that, the two devices are very similar, especially from a software standpoint. Like the T68, the M96 Universe runs Android 4.0.4 and comes with Google Play to install Android apps.
The M96 is an updated model of the Boox M92, also known as the Icarus Excel, which I reviewed two years ago. The screen size and resolution remain the same, but the M96 has a faster processor and more RAM. It also adds Bluetooth support and of course the Android operating system. And right out of the box I can tell that the build quality is much better and feels more solid.
I just got the M96 Universe in a couple of days ago so I haven't had enough time to test it out yet. Check back over the next couple weeks for a number of reviews and comparisons. It's been a long time since I reviewed a large-screen ebook reader. Bust out the PDFs, this is going to be fun.
Update: Here's the link to my full review of the Boox M96 ereader.
Onyx Boox M96 Universe Specs
Display: 9.7″ E Ink Pearl
Resolution: 1200 x 825 (150 dpi)
Touchscreen: Digitizer with stylus
Operating System: Android 4.0 (comes with Google Play for installing apps)
Processor: Freescale i.MX 6 Cortex A9 1.0GHz
Battery: 1600mAh Polymer Li-on
4GB internal storage space
SD card slot for cards up to 32GB
Wi-Fi
Bluetooth 4.0
3.5mm headphone jack
Speaker
Text-to-speech: IVONA (pre-installed with Polish, English and German voices)
Dimensions: 243 x 178 x 12mm
Weight: 509 grams