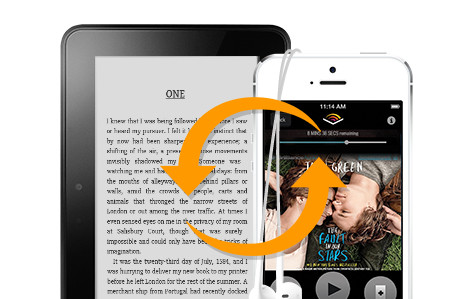 Amazon has been expanding their Whispersync for Voice feature a lot lately with recent updates to their Kindle reading apps, and today they announced the official launch of their exclusive feature in the UK.
Whispersync for Voice works by syncing Kindle ebooks and Audible audiobooks together so that you can switch back and forth between reading an ebook and listening to the professionally narrated audiobook.
Amazon usually offers deals on an audiobook copy, marking the price down to a few bucks, once you purchase the Kindle copy.
You can use any Kindle or Kindle app to read the ebook, and Audible audiobooks are available on several platforms. Amazon takes it a step further with their Kindle reading apps and Kindle tablets and ebook readers that support audio. With those, ebooks and audiobooks are integrated together in the same app/device.
Amazon first launched Whispersync for Voice in the US back in 2012. It used to only be available on Kindle Fire tablets, but then Amazon started promoting it a lot more and just recently updated the Kindle apps for Android and iOS to support audiobook integration.
With the launch of Whispersync for Voice in the UK, Amazon is giving away 10 Kindle ebooks with 10 corresponding audio titles for customers to try out the new feature. The freebies are public domain titles, and include classics like The Secret Garden, David Copperfield, Dracula, and Great Expectations.
Amazon currently offers 25,000 Kindle ebooks and audiobooks available for Whispersync for Voice in the UK.
via: The Bookseller