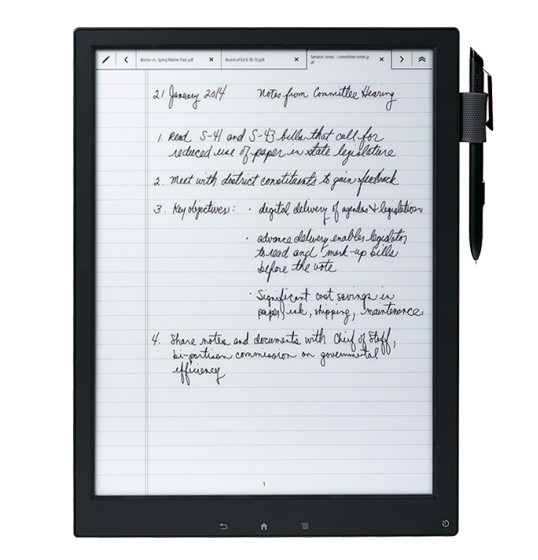 The Sony DPT-S1 PDF Reader first arrived in the United States this past May. Sony calls the device a Digital Paper System. It is being marketed to business professionals, mostly people in banking and legal industries, as a paper replacement system.
The Sony DPT-S1 is strictly a PDF Reader. It's currently the only device available that uses a 13.3-inch E Ink Mobius display.
Unlike typical E Ink ereaders that have glass screens, Mobius displays use a plastic substrate. This helps make them a lot more durable and lightweight. In fact the Sony Digital Paper Reader only weighs a total of 12.6 ounces even with the large screen—that's about the same weight as an iPad Mini.
The unique screen is probably what makes the price of the Sony DPT-S1 so high at $1100. And the high price has led to very few reviews, and even fewer in-depth reviews.
I've been keeping an eye on YouTube since there's zero chance I'll ever spend $1100 to get one to review, and a pretty good in-depth video review was uploaded recently by David Spitzer. Take a look…
P.S. If you've got $1100 burning a hole in your pocket, Sony now sells the DPT-S1 directly to consumers from their website.
Sony Digital Paper DPT-S1 In Depth Run Through