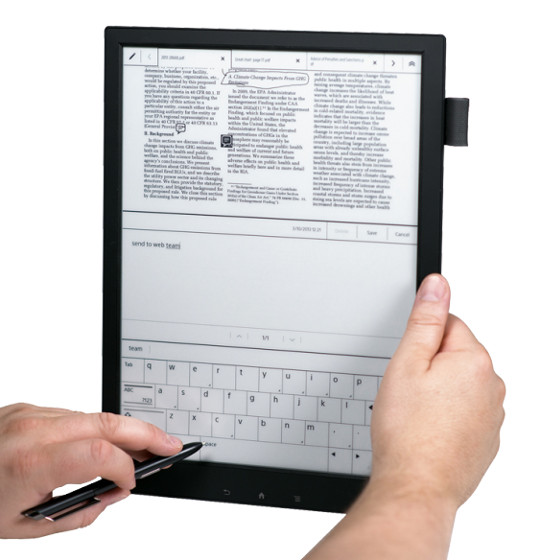 Earlier this year, Sony decided to bring their giant 13.3-inch E Ink PDF reader to the United States after an initial release in Japan, but when they did so they opted to only sell them through third-party vendors.
Sony has added three resellers to their list over the past few months, but they all seem to require some secret handshake, a legal degree, or masonic ring to buy one.
Sony placed restrictions on who these companies could sell devices to, but now that doesn't matter anymore because Sony has finally started selling the DPT-S1 (Digital Paper System) directly from the Sony Store website where anyone can buy one.
The selling price remains at $1100, the same as through resellers. That's a high price to pay for a PDF reader, but that's not as high as some people were willing to spend. Because of the restrictions, some folks resorted to spending upwards of $1300 or more to buy the imported Japanese version from websites like Amazon and eBay.
Unfortunately it's unlikely the price will go down anytime soon. After all, it's the only device on the planet that comes with a 13.3-inch E Ink Mobius display. Plus it's meant for business use, not regular consumers, and that always adds a premium to the price.
For most people a large screen tablet is going to be a better value, but for many hardcore PDF users out there they'll happily take the business expense in exchange for an E Ink reader like this.
The main difference between a tablet and the Sony DPT-S1 is of course the screen, which Sony helped co-develop. The DPT-S1 is the first device to use a 13.3-inch E Ink Mobius screen. It has a resolution of 1600 x 1200 and is very thin, lightweight, and more durable than regular E Ink screens because it uses plastic instead of glass for the backplate.
The overall weight of the reader is only 12.6 ounces. That's impressive considering its overall size of 9.25″ x 12.25″ x .281″.
The device also includes Wi-Fi, a micro USB port, microSD card slot, and it comes with 4GB of memory. It has two types of touchscreens, one that responds to the touch of your fingers and a more sensitive electromagnetic touchscreen for using a stylus pen.
This next blog post has an in depth video review of the Sony DPT-S1 for those of you that want to see the device in action.
For those that don't want to spend $1100 for a PDF reader, I'm working on a review for the Onyx Boox M96. So far I'm really impressed with the device, and it has a really good built in PDF reader. At less than one third the price of the Sony PDF Reader, it's definitely worth considering. Plus it runs Android 4.0.2 and can do a lot more than just read PDFs.