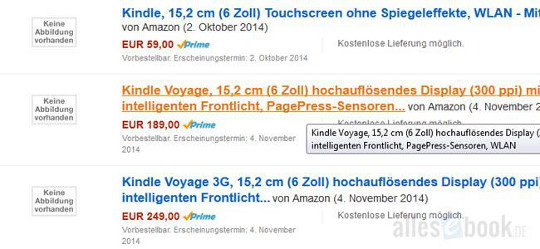 A new Kindle ereader is about to be released, two in fact. A leak has turned up online from Amazon Germany that shows the listing for new Kindle models.
There is what appears to be a new "basic" Kindle. This one has a touchscreen and will sell for 59 euros in Europe.
More interesting is a new device called the Kindle Voyage, which appears to be the successor to the Kindle Paperwhite. It's available in 3G and Wi-Fi only and sells for 249 and 189 euros respectively.
That's a lot more than the current Kindle Paperwhite sells for (109 euros), so we can expect some premium features at that price.
Not a lot of details are given yet, but based on the early listing we can expect the new Kindle Voyage to have a 6-inch E Ink screen with 300 ppi. It's likely a Carta screen with a resolution of 1440 x 1080 to hit that number.
We were hoping for a larger Kindle this year, but that doesn't appear to be the case. At least not with the Kindle Voyage, as the screenshot clearly shows a 6-inch screen. Here's a rendering of the new Kindle Voyage from the user manual.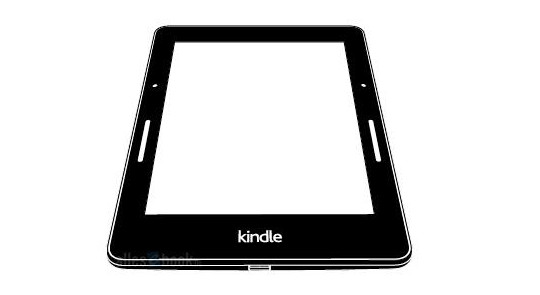 A couple of other details mentioned include an "intelligent frontlight". This likely means it has an automatic frontlight dimmer based on ambient lighting. There's also mention of "PagePress sensors" for turning pages. And maybe audio support is coming back given Amazon's recent push for Whipersync for Voice, but that's uncertain.
A cached copy for Amazon Japan shows a couple additional details. It says the new PagePress sensors can turn pages by pressing lightly on the bezel. And it says the Kindle Voyage is the thinnest Kindle ever. The dimensions are 16.2 cm x 11.5 cm x 0.8 cm, and it weighs 186 grams.
The leaked information indicates that the new basic Kindle will be available in early October, and the Kindle Voyage in early November. Amazon tends to release new Kindles in the US first, so those dates may jump up a bit when they make the official announcement. Stay tuned for more details!
Update: Here's more information about the new PagePress sensors from the user manual, and Allesebook.de turned up this first official product photo of the Kindle Voyage.
Update #2: Amazon has officially announced a whole new lineup of Kindles.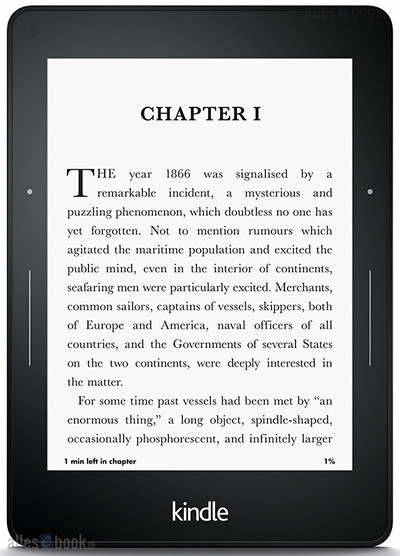 via: Allesebook.de