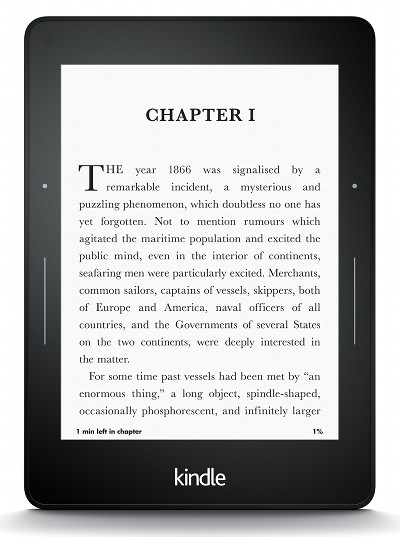 Yesterday after Amazon officially announced the new Kindle Voyage and entry-level Kindle Touch, a few tech sites posted some early hands-on videos showing the new Kindles in action.
Actually pretty much everyone focuses on the Kindle Voyage; the new entry-level Kindle is barely mentioned at all anywhere, and is being treated as more of an afterthought. But the CNET video does briefly mention it and show it for a few seconds, at least.
David Carnoy from CNET brings up some good points in the video. He mentions that all E Ink Kindles have the same 1GHz processor, and they have 256MB of RAM, except the new Kindle Voyage, it has 512MB of RAM.
He also confirms that the $79 entry-level Kindle uses an infrared touchscreen instead of capacitive like the Kindle Paperwhite and Kindle Voyage. And the video shows how the Kindle Voyage has a flush screen like the Kobo Aura.
More details and pictures can be found on CNET's preliminary review.
CNET's Kindle Voyage and New Kindle Hands-on
The Verge also upload an early video review of the Kindle Voyage (they don't mention the basic Kindle at all, for some reason). The video shows some good close-ups of the screen, and shows a little more about how the page turn sensors work.
More details and pictures can be found on The Verge's preliminary review.
The Verge's Kindle Voyage Hands-on