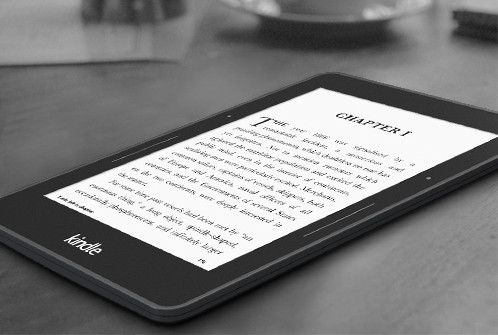 Yesterday when Amazon unveiled the new Kindle Voyage ebook reader, initial impressions were positive given the new super high-resolution screen and fancy page turning sensors, but there's definitely a bit of sticker shock to go along with the new Kindle Voyage as well.
Amazon is clearly aiming for the "premium" dedicated ereader market, but have they overshot the mark on pricing? Did they deliver enough new features to warrant such a high price?
Let's break down the numbers. The Wi-Fi Kindle Voyage costs $199 and the 3G model costs $269, and that includes advertisements, so to be fair when comparing to other non-Kindle devices, the price is really $219 and since other brands don't offer 3G that's the price to consider. That's $40 more than the new Kobo Aura H2O, and it has the benefit of a larger 6.8-inch screen, a microSD card slot, and it's waterproof and dustproof.
Does the higher resolution screen on the Voyage and added page sensors make up for the difference?
Then there are new Android-powered ereaders like the Onyx Boox T68. It sells for $199 on Amazon, and it runs Android 4.0, comes with Google Play, and can even run the Kindle Android app. It doesn't have 300 ppi or page sensors, but it does have physical buttons and offers hardware upgrades such as Bluetooth, a microSD card slot, audio support, and a larger 6.8-inch display.
When comparing the price of the Kindle Voyage to other Kindles, the price seems a bit out of proportion too. The new entry-level touchscreen Kindle starts at $79, and the Kindle Paperwhite remains available for $119.
You could buy both the Kindle Paperwhite 2 and the new Kindle Touch for the same price as one Kindle Voyage. Or you could buy two of the new Fire HD 6 tablets for the same price as one Kindle Voyage. That's kind of crazy.
$199 is the same price the 9.7-inch Kindle DX sold for (in fact Amazon still sells the international Kindle DX but shipping is 3 to 5 months away—it makes no sense). It's a shame that Amazon didn't revive their interest in large screen ebook readers, but at least the Boox M96 is a solid option—a new Kindle DX could have never competed with it on a software level anyway.
Either way you slice it, the new Kindle Voyage is one of the most expensive 6-inch ebook readers that money can buy. Time will tell if it turns out to be successful at that price, or if it ends up being another Fire Phone debacle.
So what do you think? Is the Kindle Voyage too overpriced?