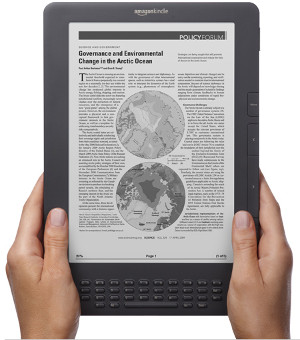 Okay, so this is kind of odd. Amazon recently stopped selling the Kindle DX (for the second time) and since then the device has only been available used, and at majorly inflated prices.
But if you know just where to look you can still find the Kindle DX for sale new on Amazon for the regular price of $199. The kicker is it's the international version of the Kindle DX.
I think that the only difference with the international version is it doesn't come with an AC charger since outlets differ by country; instead it just comes with a micro-USB cable for charging via a computer. The 3G radio may be different as well, but both models have 3G access globally so perhaps not.
The strange thing is you cannot find the international version of the Kindle DX by running searches on Amazon or by viewing the other Kindle pages. Even typing "international Kindle DX" into search doesn't turn it up. Basically the only way to find it is by going to the product page directly.
I'm not 100% positive that customers with US addresses can buy the international version, but I was able to add it to my cart and get all the way to the point of placing the order without any issues, so it does appear to work.
The Kindle DX is the ebook reader that just won't go away. Just when you think Amazon has stopped selling them for good, more units seem to turn up somewhere.
via: Liliputing