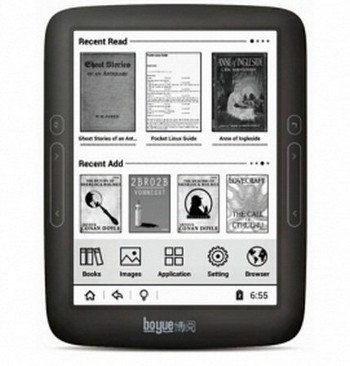 If you think the new Kindle Voyage is too overpriced or it doesn't have the features you're looking for in an ebook reader, there's another new Android-powered ereader now available on Amazon called the Boyue T62.
Last month while reviewing the Icarus Illumina HD, it turned out that it was actually a rebranded Boyue T61. The Boyue T62 is very similar to the T61. The software is virtually identical between two, but the T62 has a slightly different design and it comes with some hardware upgrades over the T61.
The Boyue T62 comes with twice the internal storage space as the T61 (8GB vs 4GB), it adds audio support via a headphone jack, and the battery is 50% larger—a key upgrade given the below average battery life on the Illumina HD.
Other hardware features for the Boyue T62 include a 6-inch E Ink Pearl display with a resolution of 1024 x 758. It has a 2-point capacitive touchscreen, adjustable frontlight, Wi-Fi, page buttons on both sides of the screen, a dual-core 1Ghz processor, 8GB of built-in storage space, 512MB of DDR3 RAM, and there's a microSD card slot for cards up to 32GB.
The software is based on Android 4.2.2. Like the T61 and Illumina HD, the software is open and a number of Android apps can be installed, but the device doesn't come with Google Play to install apps like some other Android-powered ereaders, including the Boox M96 and Boox T68.
Apps have to be sideloaded on the Boyue T62 with the default software. But like the T61, the T62 can be rooted. Once rooted you can install the Google Play Store and Google apps. For those interested, here's the guide at MobileRead with directions on how to root and install Google Play on the Boyue T61 & T62.
An ereader like the Boyue T62 is never going to be anywhere near as refined as something like the Kindle Paperwhite or Kindle Voyage, but it's a lot more advanced and capable with the open Android software.
It's good to see alternative options for ereaders like the T62 turning up on trusted websites like Amazon. But the problem is the price is quite a bit higher than elsewhere. Right now the Boyue T62 is listed on Amazon.com for $169, plus $3.99 for shipping. Compared to the non-ad Kindle Voyage at $219 that may not sound too bad. Meanwhile the T62 is available from Banggood.com for $117 with free shipping to the United States. The big difference is Banggood is based out of China, and that makes returning a defective or unwanted item a very costly venture, unlike Amazon where returning things and getting your money back is super easy.