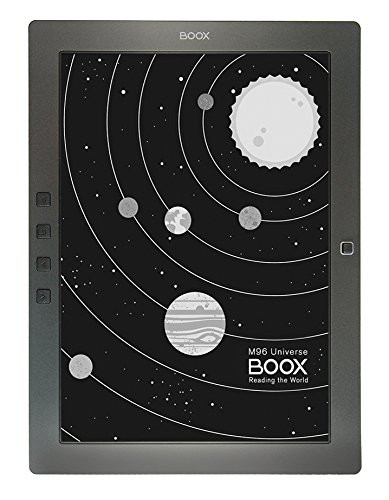 My favorite ereader of the year, the Onyx Boox M96, has been unavailable for several weeks now, but it's finally back in stock on Amazon and from Onyx-Boox.com.
The M96 doesn't have fancy page sensor buttons or a 300 PPI screen like the Kindle Voyage, and it isn't waterproof like the Kobo Aura H2O, but it has a large 9.7-inch E Ink screen that's fantastic for reading, and it runs open Android 4.0 and comes with Google Play to install Android apps.
Soon after reviewing the Boox M96, it sold out and became unavailable so I decided to hold off on posting any follow up reviews. Now that it's back, the secondary reviews and video reviews that I promised will be getting posted over the next couple weeks.
I plan on posting a review of the onscreen writing features, including the use of Stylus Beta and some writing programs. I've also got a Bluetooth keyboard to show how to use the M96 as a word processor. I'll post a video showing the web browser in action too. If you have any other suggestions feel free to leave a comment.
The non-Universe branded M96 recently got a firmware update to enable the exportation of annotations for PDFs, but it's still not available for the Universe M96. Hopefully the update gets released soon and then I can post a review about how the much-need export feature works.