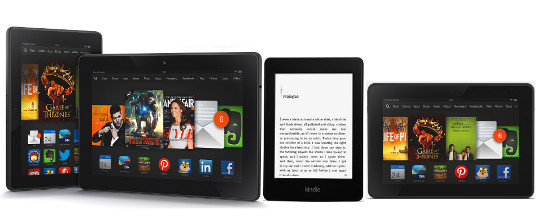 Amazon is currently offering up to 25% off of certified refurbished Kindle ebook readers and Fire tablets via their Kindle Outlet Store.
There's no mention of how long the sale lasts. Right now there are some pretty good deals.
The current Kindle Paperwhite can be had for $99—that's $20 off retail for a new one—and the 1st gen model is $89 (the 2nd gen has a better, more evenly-lit frontlight that's worth the extra $10).
If the idea of a $99 tablet appeals to you and you want something bigger than the Fire HD 6, $99 just happens to be the discounted price of last year's 7-inch Kindle Fire HD, certified refurbished. And bonus, it's the non-ad version.
The larger 8.9-inch Kindle Fire HDs are on sale too, the previous generation models. The 16GB version can be had for $159. Even better, the 4G LTE model is just $179 for the 32GB model. Not bad for a 9-inch tablet with a high resolution screen, despite Amazon's limited custom software.
The current 7-inch Kindle Fire HDX has been marked down from $199 to $179 for the past couple of weeks. Refurbished ones go for $149.
Some older Fire tablets are marked down as well. Pretty much everything refurbished is on sale. Certified refurbished Kindles all come with the same 1-year warranty as new Kindles so they are a safe buy and a good way to save cash.