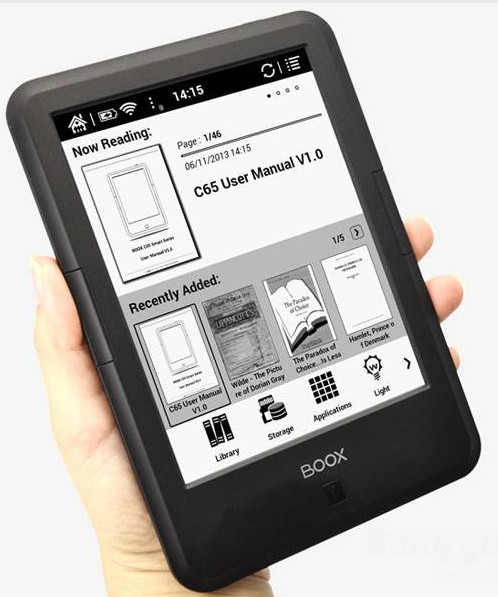 Earlier this month Arta Tech released the Onyx Boox AfterGlow 2, a 6-inch ebook reader with a frontlight, HD E Ink screen and Android 4.2.2.
Soon after Banggood.com started selling an almost identical device called the Onyx Boox C67ML (upgraded version). It appears to be about 95% the same as the AfterGlow 2, though there are some subtle differences.
Onyx is one of those companies that releases a whole bunch of different devices with several almost identical yet subtly different models, some with different brand names. It's hard to keep up with them all and makes it confusing for consumers.
Nonetheless, the Onyx Boox C67ML appears to be a good option for an Android ebook reader, at least on paper. And at $128.60 with a cover included, the price is reasonable for the amount of features it offers.
But the problem with Banggood is they ship from China so shipping takes longer and returning anything costs a fortune for return shipping. Plus their listings tend to be a little on the ambiguous side.
For instance, the product details mention that the C67ML runs Android 4.2.2 and that you can install all kinds of reading apps. But it doesn't specifically mention anything about having Google Play access to install those apps. The user manual is available for download, and it doesn't mention Google Play support anywhere either, but it does include a screenshot that shows the Play Store in the app drawer, along with a bunch on Chinese apps.
The C67ML is basically the Chinese version of the AfterGlow 2. Obviously it supports using an English interface, among others languages, but it's not clear if the Play Store comes preinstalled or if the device has to be rooted to sideloaded it.
Another difference between the Boox C67ML and AfterGlow 2 is the stated processor speed, with emphasis on stated. Both list the same dual-core Cortex A9 processor, but the C67ML shows 1.0 GHz whereas the AfterGlow 2 shows 1.2 GHz.
Additional features for the Boox C67ML include a 1024 x 758 resolution E Ink screen, 4GB of storage space, it has a memory card slot, physical page turn buttons, a frontlight, capacitive touchscreen, 3.5mm headphone jack, and Wi-Fi.
If anyone happens to get an Onyx Boox C67ML, please let us know what you think in the comments section.
Onyx Boox C67ML Specs
6" inch E Ink display.
1024 x 758 px resolution (212 dpi).
Capacitive touchscreen (2-point).
Built-in frontlight.
Android 4.2.2 OS.
Processor: Dual-Core Cortex A9 1.0GHz.
512 MB RAM.
4GB internal storage space (3.5GB usable).
Memory card slot (up to 32GB).
Micro USB 2.0.
3.5mm headphone jack.
Wi-Fi.
Text-to-speech supported.
Languages: Simplified Chinese & Traditional Chinese, English, Spanish, Finnish, French, Croatian, Hungarian, Italian, Norwegian, Polish, Portuguese, Romanian, Russian, Swedish, Turkish, Slovak, Slovenian.
Supported formats: Adobe DRM, PDF, EPUB, TXT, DJVU, HTML, RTF, FB2, DOC, MOBI, CHM, PDB; Audio: MP3, WAV; Images: JPG, BMP, GIF, PNG.
Battery: 1700mAh Li-Polymer.
Dimensions: 170 x 117 x 8.7mm.
Weight: 225 grams.