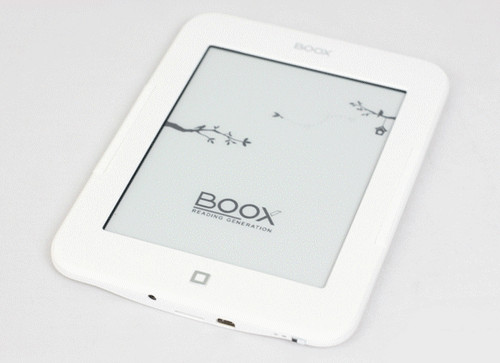 The Onyx Boox I62A is yet another new Onyx Boox ebook reader to add to the seemingly endless list of new devices from Onyx this year.
The I62A is more of a basic ereader than the Onyx Boox C67ML and some of the others. It's a lot like the Onyx Boox Classic that Arta Tech recently released. The biggest difference is the I62A adds a touchscreen and it has a lower resolution display.
Features for the Boox I62A include a 6-inch 800 x 600 resolution E Ink Pearl screen, it has 4GB of storage space, Wi-Fi, a memory card slot, two-point infrared touchscreen, 3.5mm headphone jack for listening to music and text-to-speech, and it runs Android 2.3.1.
Given the older version of Android, it's not going to be much good for installing Android apps. Like the Onyx Boox Classic, it likely doesn't even have the option to install Android apps anyway. At least not without rooting, and with all the app incompatibility issues with Android 2.3 it wouldn't be worth the trouble.
Nevertheless, the Boox I62A is a cheap option for an E Ink ebook reader at just $89 from Banggood.com, a Chinese wholesale website, and it even comes with a cover. That's $10 less than the equivalent entry-level Kindle without ads.
The Kindle undoubtedly has the software advantage with all of Amazon's features and optimizations, but the Onyx has the advantage with the memory card slot, audio support, and support for ePub ebooks.
The Onyx Boox I62A also adds physical page turning buttons. They are hard to see in the image at the top of this page but other pictures at Banggood show buttons along each side of the screen.
If you happen to get a hold of one of these please leave a comment to tell us what you think.
Onyx Boox I62A Specs
6" inch E Ink Pearl display.
800 x 600 pixel resolution (167 ppi).
Infrared touchscreen (2-point).
Android 2.3.1 OS.
Processor: RockChip 1.0 GHz.
512 MB DDR3 RAM.
4GB internal storage space.
Memory card slot (up to 32GB).
MicroUSB 2.0.
3.5mm headphone jack.
Wi-Fi.
Text-to-speech supported.
Supported formats: Adobe DRM, PDF, TXT, HTML, EPUB, CHM, PDB, MOBIPOCKET (Non-DRM), FB2, DJVU, DOC, EXL, PPT, ZIP; Audio: MP3, WAV; Images: JPG, BMP, GIF, TIFF, PNG.
Languages: Chinese, English, Spanish, Russian, Portuguese, French, Italian, Finish, Swedish, Turkish.
Battery: 1800mAh Li-Polymer.
Dimensions: 171 x 125 x 10.9mm (tentative).
Weight: 238 grams.