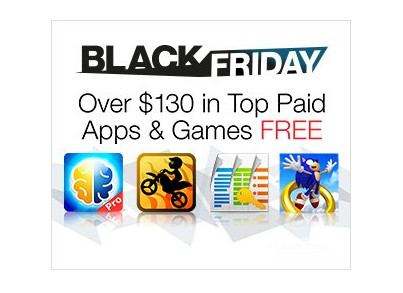 Amazon is running a promotion where they are giving away over $130 worth of top paid Android apps and games for free as one of their Black Friday deals.
The list consists of mostly 4 and 5 star apps. There are a lot of games but there are some good utility apps and productivity apps as well, including Docs To Go Premium, WiFi File Explorer PRO, and a couple dictionaries.
And don't forget the timely classic, A Charlie Brown Thanksgiving, available as an interactive ebook.
Here's the complete list of apps available for free on Amazon's appstore for Android:
Bike Race Pro by Top Free Games
Angry Birds Seasons HD (Fire Edition)
Bejeweled 2
Sonic Jump
Dr. Panda & Toto's Treehouse
Perfectly Clear
Mind Games Pro
Fairway Solitaire (Full)
Angry Birds Seasons (Ad-Free)
Photo Editor+
WiFi File Explorer PRO
Docs To Go Premium Key
Quell Memento
Shredder Chess
MAPS.ME Pro – Offline Maps
A Charlie Brown Thanksgiving
Dark Guardians
Cooking Dash: T&S Deluxe
Sago Mini Space Explorer
Dictionary!
Music Volume EQ
Forest Legends: The Call of Love
Moon Phase Pro
Mobile Observatory
Hidden Objects Thanksgiving & 3 puzzle games
Alarm Clock Pro
RPG Symphony of the Origin
TouchRetouch
Polar Bowler
Stack 'N Puzzles – an Educational Puzzling Adventure for Kids
MyBackup Pro
Simple-List Pro
Merriam-Webster's Collegiate Dictionary, Eleventh Edition for Android
EDGE Extended
TOI:Fallen Knight (RPG)
Parking Frenzy 2.0
Splashtop Whiteboard
XiiaLive Pro – Internet Radio
Einstein's Challenge Full
Excel< ->Contacts