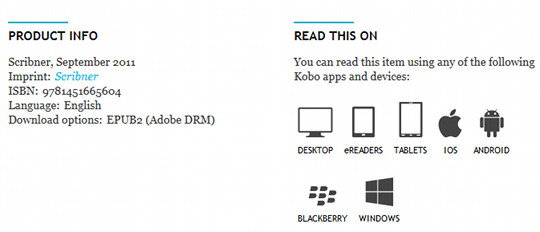 When Kobo redesigned their website in 2013 to make it more tablet and mobile device friendly, they removed the section that specified what format the book was available in, along with customer reviews.
Fortunately Kobo.com has finally started listing format type once again and if a title has DRM or not.
Kobo is known for selling ePub ebooks with Adobe DRM, but sometimes Kobo only offers certain titles in their proprietary Kepub format, which only work on Kobo branded devices and apps.
That has often caused problems with customers not knowing what format they were getting before buying, especially after Sony sent all their ebook accounts over to Kobo. People had to resort to getting a sample of a book and then see if there was an ePub download option on the library list from the account page.
It's so much easier now being able to scroll down on a book's description page to see what format it is being sold in, and if it has DRM or not.
There have been signs that Kobo is working on bringing back a customer review section again too. That's one area Amazon has a major advantage over Kobo, especially now with Goodreads integration as well.
Goodreads is what Kobo used to use for reviews before Amazon bought the company; now that that ship has sailed it will be interesting to see how Kobo chooses to handle ebook reviews moving forward.