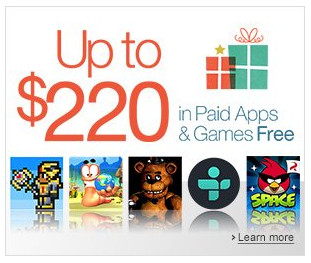 This holiday season Amazon is promoting their largest Android app giveaway in the history of the Amazon appstore.
From December 24 through December 26th, you can get $220 worth of paid Android apps for free. The bundle giveaway includes a number of games such as Angry Birds and some old school games like Sonic and Tetris. There are some handy utility apps too like Calculator Pro, Root Explorer, and Splashtop Remote Desktop.
And don't forget today's free app of the day, Dr. Seuss's classic How The Grinch Stole Christmas. It's an interactive ebook complete with professional narration and custom sound effects.
Here's the complete list of apps available for free on Amazon's appstore for Android:
Five Nights at Freddy's
Plex
Terraria
Sonic The Hedgehog 2
Farming Simulator 14
My Alarm Clock
Angry Birds Space HD (Fire Edition)
Construction Simulator 2014
Fleksy Keyboard
Wolfram|Alpha
Worms 3
TETRIS
Age of Zombies: Season 2
Photo Transfer App
Endomondo Sports Tracker PRO
Root Explorer
To-Fu Fury
Ultimate Guitar Tabs and Tools
iReal Pro – Music Book & Play Along
TuneIn Radio Pro
PicShop – Photo Editor
Mirroring360 – AirPlay Receiver
djay 2
Just 6 Weeks
Quell Reflect
Splashtop Remote Desktop
Angry Birds Space (Ad-Free)
Calculator Pro
RPG Soul Historica
ShutterFolio
Oxford Advanced Learner's Dictionary, 8th edition
Jump Desktop (RDP & VNC)
InstaWeather PRO
Color Splash FX
Cogs
ElectroDroid Pro
InstaPlace
Anomaly Warzone Earth HD
Paper Train Reloaded
The Muscular System Manual: The Skeletal Muscles of the Human Body