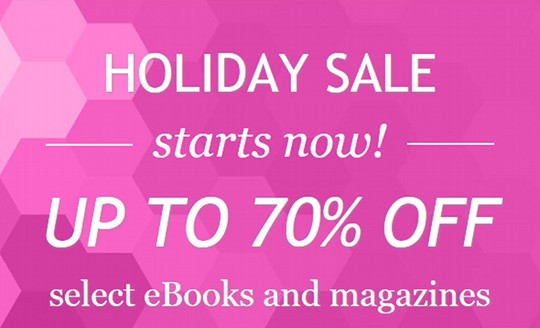 As the holiday shopping season comes to a close, there are still some good deals to be had on Kobo ebooks and some Kobo devices.
The original 6-inch Kobo Aura is marked down to $99 as part of Kobo's Boxing Week Deals. That's $40 off the regular price. The sale is ongoing at Kobo.com and Chapters.
Once again, Chapters has the better deal on the Kobo Aura because they're also throwing in a free cover, which normally costs an extra $30. For a limited time you can also get a free ebook from this list.
The Kobo Arc 7HD, Kobo's current 7-inch tablet, is also on sale. A few Canadian retailers, including Future Shop and Best Buy, have the Arc 7HD marked down to $99. That's actually a pretty good price for a 7-inch tablet with a high resolution screen (323 ppi), a quad-core processor, and open Android 4.2.
Kobo is running some sales on ebooks as well. They are offering up to 70% off ebooks on this list, and 35% off ebooks on this list. The sale runs through January 5th. They also have some magazine bundle deals and 99¢ magazine deals from this list, valid through January 8th.