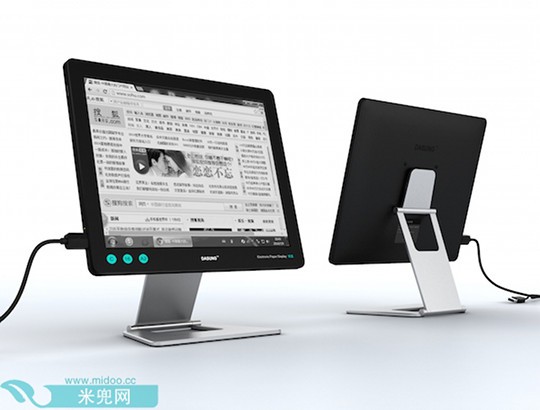 One of the coolest new E Ink contraptions to be shown off at CES 2015 was a 13.3″ E Ink monitor that connects with computers and laptops via a USB cable to provide a secondary display.
The device is called the PaperLike and it's being made by one of E Ink's partners in China by the name of Dasung Tech.
The PaperLike uses a 13.3-inch E Ink Fina screen that has a resolution of 1600 x 1200 (150 ppi). Fina is E Ink's glass-based display and is different from what's on the 13.3-inch Sony DPT-S1 PDF Reader, which has a flexible plastic-based screen.
The interesting thing about the PaperLike is that it uses so little energy that it doesn't even need to be plugged into its own power source. It connects to a laptop or desktop computer simply with a USB cable, and it gets enough power through the USB to refresh the screen.
The overall speed and refresh rate has been optimized and looks impressive. Check out these YouTube videos:
The Effect of Browser In PaperLike
Cursor Moving & Stock Software in PaperLike
The speed of Dasung's secondary E Ink monitor is impressive. The monitor has several display modes. Like the A2 mode on Onyx's Android ereaders, the faster modes show less detail but the faster refresh rate helps make things like scrolling and zooming much smoother.
Dasung just launched the PaperLike in China, but it's unclear when it officially gets released. The price is somewhere between 3999 RMB and 5999 RMB ($645 – $970 US). It seems the former is a promotional first sale discount and the latter the regular price (it's hard to make sense of Dasung's website when you don't read Chinese).