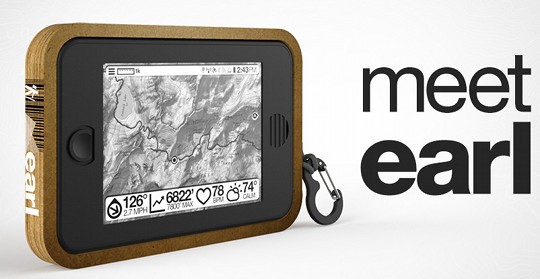 Back in May 2013, a "backcountry survival tablet" named Earl with a 6-inch E Ink screen, solar panels, various radios and other goodies was introduced as part of a crowdfunding project. The goal was to earn $250,000 to make the Earl tablet a reality, but in fact expectations were far exceeded with over 2200 backers and nearly $700,000 raised.
That's a lot of interest for such a specialized device. It's pretty hard to resist the idea of an E Ink tablet with open Android, solar power, a water and dust proof casing, frontlight, high-res maps, GPS, weather senors and radios—especially for outdoor enthusiast. The Earl can even be used for simple tasks like ereading.
Unfortunately designing and manufacturing such a device takes a lot more work and time than initially anticipated. Earl was first supposed to be released over a year ago, but the device still isn't ready to go, and backers who helped fund the project are wondering what's going on.
The good news is the Earl tablet is still in the works, and at least has a chance to get released . . . eventually. Updates have been few and far between, with no word since October, but now a video interview with Earl CEO Jonathan Perry has recently been uploaded to YouTube.
The video shows three different prototypes of Earl in various stages of development. Interestingly, Onyx has helped a lot with creating the Earl tablet, the same company that makes a number of Android-powered E Ink ebook readers.
The Earl tablet has one of the most impressive spec sheets you'll ever see on a single tablet. Here's the list of specifications from the Earl website (keep in mind that some of this may change):
Earl Specifications
Android 4.4 operating system
Flexible 6″ E-ink screen (1024×758)
Sunlight viewable with lunar lantern mode (frontlight)
Glove friendly capacitive touchscreen
Waterproof shell
Solar charging
i.MX 6 DualLite 1GHz Cortex A9 processor
1GB RAM
16GB memory + microSD
Wifi b/g/n
Bluetooth 4.0
ANT+
NFC
VHF/UHF transceiver (GMRS, PMR446, UHFCB)
GPS + GLONASS
Sensors: Accelerometer, Gyroscope, Magnetometer, Temperature, Barometer, Humidity
AM/FM/SW/LW/WB
20+ hour battery
3.5mm TRRS headphone/microphone jack
Micro USB
Military grade secure lanyard
400 grams (14.1 oz)
178mm x 125mm x 15mm
Candid Earl Video
via: Lesen.net