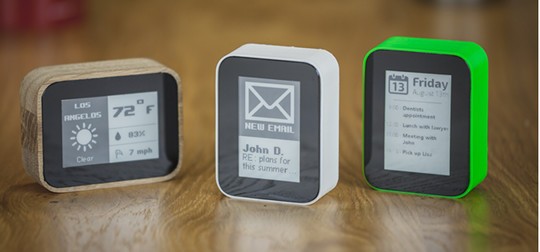 There's a new E Ink gadget on Kickstarter called Displio. The device has a tiny 2.7-inch E Ink screen that can display all kinds of things like the weather, email notifications, traffic reports, stock updates, checklists, social network updates and a lot more.
So far the crowdfunding campaign is off to a good start; they've already raised over $40,000. The goal is to hit $65,000 and there's still 29 days to go.
Displio looks like it definitely has some potential. The way it works is there's an app for iOS and Android that you use with a smartphone (and presumably a tablet) to setup and configure widgets and notifications to display on the Displio's E Ink screen.
The device communicates via Wi-Fi and it has a built in battery. It doesn't have any buttons; you interact with gestures. You can tap or shake the Displio device to refresh and it has an accelerometer so you can rotate to landscape and portrait mode to switch between different display widgets.
The 2.7-inch E Ink display keeps power usage to a minimum. The device also features a built-in speaker to alert you with notifications.
Early bidders can get the Displio for $79, limited to 150 units. Otherwise it costs $99 with a plastic casing that's available in 7 colors (white, black, red, blue, green, yellow and gray), and there's the option to get one made from wood for $119.
Here are some examples of what can be displayed on the Displio's screen:
Weather – weather conditions, forecast and room temperature.
Calendar – your daily agenda and notifications for upcoming events.
Stocks – current stock prices.
E-Mail – unread message count and notifications for new emails.
Traffic – live traffic conditions.
FitBit – your daily progress and leaderboard.
Facebook – likes and messages.
Twitter – mentions, followers and your feed.
Basecamp – todos and milestones.
Reminders.
Paypal balance.
Shipment tracking.
Countdown, and more…
There's also an open API for Displio so that anyone can develop their own widgets to display on the screen.
Displio Specifications
2.7″ E Ink screen
Wi-Fi
Accelerometer
Speaker
Built-in battery
MicroUSB charger (included)
Dimensions (WHD): 63 mm (2.48″) x 82 mm (3.23″) x 28 mm (1.1″)
Displio Video Preview