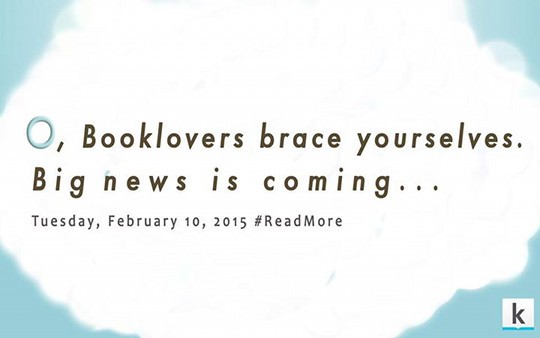 There are a few signs that point to a possibility that Kobo is getting set to release a couple of new ebook readers.
An announcement could happen as soon as tomorrow. Something is going to happen tomorrow, that much is certain. Kobo posted the above image on Facebook, with a quote that says "Check back on Tuesday for an exciting bookish announcement!"
Over on MobileRead, some cunning code ninjas noticed some interesting details in the latest update for Kobo devices (it's a very minor update, version 3.12.1).
There are a couple of codenames, Pika and Alyssum, with reference to screen resolution mentioned within the code.
Pika is 800 x 600 and Alyssum is 1072 x 1448. That would equate to a 6-inch 300 ppi screen for Alyssum. That's the same kind of screen that is offered on the Kindle Voyage.
1072 x 1448 is kind of an odd number. We all pretty much assumed that the Kindle Voyage has a 1440 x 1080 resolution screen because that's generally how it would work out to 300 ppi on a 6-inch screen, but Amazon doesn't mention that configuration specifically anywhere, so it could be 1072 x 1448 for all we know. E Ink screens tend to have slightly odd numbers at times, like 1024 x 758 instead of the standard 1024 x 768.
As for the Pika codenamed device, 800 x 600 is rather low by comparison. But as folks on MobileRead point out, it could be that it is a 5-inch ebook reader. It could be a replacement for the Kobo Mini that has been out of commission for some time. A frontlit Kobo Mini could be pretty cool.
Whatever the big news is I guess we'll find out tomorrow if it has anything to do with new Kobo ebook readers. Stay tuned for more details!
Update: Well, no new Kobo ebook readers are on the way. Yet. The big news that Kobo was referring to was Oprah's book club is coming back. Wow, what a let down that was…