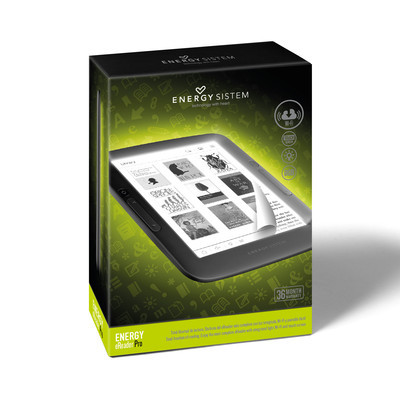 I'm working on getting the review posted for the Energy eReader Pro, which is a rebranded Boyue T62, a 6-inch E Ink ebook reader that runs open Android 4.2 and can install Android applications.
The Energy eReader Pro has a lot of other good things going for it too: It has a 1024 x 758 resolution Pearl HD display, a capacitive touchscreen, frontlight, dual core processor, microSD card slot, and real page turning buttons.
Like most Android-powered ebook readers, much of the initial setup isn't explained anywhere. You're basically left on your own to figure out how everything works with the confusing Android software.
I'm very familiar with Android because I've been working with and reviewing Android tablets and ereaders ever since they first came out, but even I have trouble figuring things out sometimes, and the way the software is setup on the Energy eReader Pro it's one of the more confounding devices I've tested.
To make things a little easier for others, I've made a list of some getting started tips and setup tricks for the Energy eReader Pro.
Google Play Setup
One of the confusing things about the Energy eReader Pro is that it isn't advertised as coming with Google Play, and when you go to the app drawer there is no icon for Google Play, so one would assume the device doesn't have it.
Apparently the trick to get the Google Play app to appear is to sign in to your Google account using one of the pre-installed Google apps, Drive or Gmail. Then after a few minutes the Google Play app will magically appear in the app drawer and then you can use it to install apps from the Play Store—at least that's how it worked for me. I thought I would have to root the device to get Google Play but since it showed up on its own I won't have to deal with that.
Enable Page Buttons for 3rd Party Apps
The Energy eReader Pro has a set of page buttons on each side of the screen for forward and back, but by default the buttons don't work with most third party reading apps such as Kindle and Google.
To make the page buttons work with reading apps, go to device settings > user settings > toggle volume keys setting to open. For some apps that's enough to do the trick, but with most you'll have to go into the settings menu for each individual app and select to enable page turns with the volume buttons.
With the Kindle app, the volume button setting is accessible by going to the Kindle app's homescreen, tapping the home icon on the top left, then scrolling down and selecting settings.
With Play Books, you just have to open the regular settings menu from within a book to get the option to use volume keys to turn pages.
Unfortunately a lot of Android apps, such as the web browser, Feedly, and Comixology don't have that option in settings so there is no way to make use of the page buttons for turning pages or scrolling.
Custom Homescreen Apps
You can change the apps that appear on the device's homescreen, all except the "Apps" link.
Go to device settings > user settings > customize the desktop apps. You can choose from any of the apps you have installed.
Screen Refresh Rate
Oddly the preinstalled reading apps (Adobe Reader and FBReader) don't show any option to set full page refresh frequency.
However, you can setup how often you want full refresh for these two apps from device settings > user settings > fullscreen flush times. It can be set from 1-9.
Change Default ePub Reader
Onyx's Android ereaders let you choose what app to use to open ebooks from the homescreen when long-pressing on a title, but that doesn't work with this device.
You can change the default reading app for ePubs in device settings > user settings. However, it only works with the two preinstalled apps, Adobe Reader and FBReader. For third party apps such as Moon+ Reader, you have to open the app to access your ebooks and they have to be placed in the app's specific folder.
Faux MicroSD Card
Don't be fooled by the filler piece in the microSD card slot. It looks exactly like a real microSD card and even has gold lines painted on the back that look like contacts, but it's not real. It had me fooled at first and I couldn't figure out why it wouldn't work. 🙂