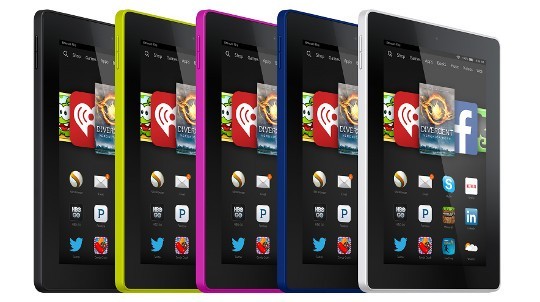 Amazon has issued a software update, version 4.5.3, for the Fire HD 6 and Fire HD 7 to add support for Amazon's exclusive Firefly feature, which can be used to scan and identify physical products and media to get more information about them, plus you'll get the option to purchase of course.
Firefly can also identify things like music, movies and TV shows by analyzing audio. It can recognize over 240,000 movies and TV episodes and 35 million songs.
I tested it with a couple obscure instrumental songs playing on Pandora and it knew what they both were in less than 10 seconds.
The way it works is you just point the Fire HD's rear camera at items you want Firefly to recognize. It sends the image/audio to the Amazon's Cloud to processes the results and return a list of options that includes things like buying, sharing, you can add items to your wish list, search online, etc. You get different options for different kinds of items.
To activate Firefly you just swipe down from the top of the screen and tap the Firefly icon. The icon just got added with the new 4.5.3 update, so if you don't see your tablet is still running older software. The weird thing about the update is Amazon doesn't even mention that Firefly was added in the release notes, and they didn't update the onboard user guide to reflect the change either.
To analyze music with Firefly you have to tap the music note icon at the top of the screen and the TV logo for movies and television shows. To analyze physical objects just point the camera at them and tap the screen to focus.
Firefly can also be used to scan things like barcodes, artwork, text for translations, phone numbers and email addresses.
Initially Firefly was only available on the Fire Phone. Then Amazon added it to the new 8.9″ Fire HDX when it was released. Now both the Fire HD 6 and HD 7 have the feature as well, but not the 7-inch Kindle Fire HDX. I was wondering why it was left out at first and then I remembered that it doesn't have a rear camera so the only Firefly it's ever going to be good for is the science fiction TV series.