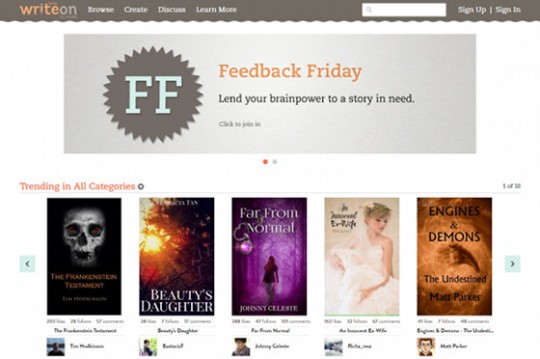 This past week Amazon officially introduced Write On by Kindle, a new website where readers and writers can get together to work on honing stories and writing skills.
You can read books that are works-in-progress, including everything from short stories to novels, that writers have posted. You can offer feedback and suggestions to other writers, and post stories that you are working on as well.
Write On is a place designed to help writers get stories fleshed out and to help keep the writing process moving forward.
Basically it's a community writer's workshop of sorts.
There are forums where you can talk with other readers and writers. You can post full stories or single chapters or snippets to request feedback. You can read and comment on posted stories, and select to follow a specific story or author.
Writing can be a very lonely and solitary practice, so it's good to have a place to get feedback and share ideas with other like-minded individuals.
Write On is the second writer-centric program that Amazon has launched in recent months, along with Kindle Scout, where readers vote on new unpublished stories to help nominate them for publication. So you can get a story started over at Write On and then once it's all finished and good to go, enter it into the Kindle Scout program to try and get it published.