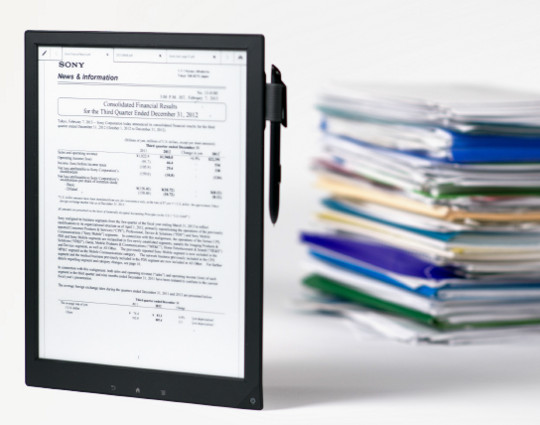 Sony's specialized 13.3-inch E Ink PDF reader keeps getting cheaper and cheaper all the time. The price just dropped by $200, and that's after a $100 price decrease last October.
At $799 from the Sony Store, it's still not exactly a bargain, but at least Sony's price-reducing trend is promising.
When the Sony DPT-S1 first arrived in the United States last May, it was only available from a few select businesses; Sony didn't even sell it to the public from their website until August of 2014.
Initially the price of Sony's PDF reader was set at $1100. But some sellers on eBay and Amazon were selling it for as high as $1350 to $1500, and that was for the imported Japanese version.
A couple months after Sony started selling it from their website they dropped the price to $999. Now six months later it's down to $799. If they could somehow find a way to get it down closer to $500 a lot more people would be interested in getting one.
The unique screen tech is what jacks the price up so high compared to other E Ink ereaders. The Sony DPT-S1 is currently the only ereader you can get that has a 13.3-inch E Ink Mobius display. Unlike regular ereaders, Mobius displays are plastic-based, making them much more durable and lightweight than typical glass-based screens.
A few other companies have announced new 13.3-inch ereaders, including Netronix and PocketBook. Hopefully Sony's price decrease will help keep the prices down on those devices as well, if they ever get released.