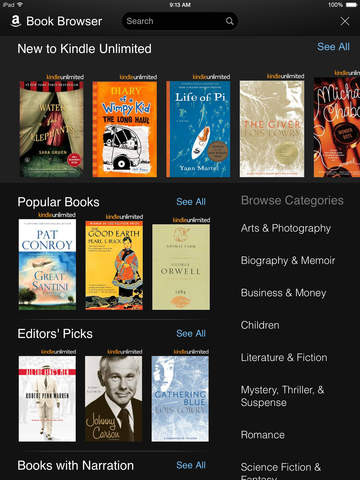 Amazon recently issued a software update for their iOS Kindle reading app for iPhone, iPad, and iPod touch.
The update adds some new features, including flashcards for print replica textbooks, and enhancements to the "Before You Go" screen and Book Browser.
The "Before You Go" screen is the annoying popup when you get to the end of a book that tries to sell you on related titles.
And the Book Browser is Amazon's sneaky workaround that lets users view information about Kindle ebooks without being able to buy them to avoid Apple's required 30% cut for all in-app purchases.
Below is the full changelog that Amazon has provided:
Kindle for iOS version 4.8 includes the following:

* Flashcards for Print Replica Textbooks – Design improvements on iPad and new support for Flashcards in Print Replica textbooks on iPhone & iPod.

* Enhanced "Before You Go" Experience – The enhanced "Before You Go" experience at the end of a book lets you find related books and learn more about each book or download a sample by tapping on its cover.

* Using the Book Browser, customers can now view and get additional information about books. Tapping on a book cover displays a detail page that provides information about the book, including the book description and customer reviews. Kindle Unlimited subscribers can download and read immediately.

* General performance and stability improvements
Here's the link to the Kindle iOS Reading App on iTunes.