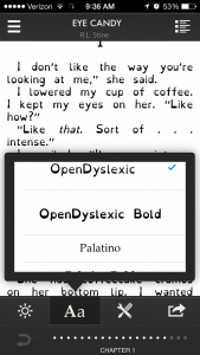 OverDrive updated their reading apps last week to add some new features, most notably they added the option to use a dyslexic font for reading ebooks.
Standard fonts often present a problem for people with dyslexia because they make it hard to differentiate words, as the letters tend to get mixed up and jumble together.
Dyslexic fonts have better spacing and contrast to help solve this problem, making it easier to determine individual letters and words.
In addition to the new dyslexic font options, the Android app received a couple of other new features too: variable speed control and volume boost have been added to help make audiobook playback better. They made a few minor changes to the user interface as well.
It's good to see OverDrive taking steps to make their reading apps more accessible and easier to use for people with dyslexia. Kobo also offers the OpenDyslexic font on their ereaders, but Kindles and Nooks still don't. Both are so un-user-friendly when it comes to fonts that it's mind-boggling.
OverDrive's apps provide access to over 30,000 libraries across the globe. The apps make downloading audiobooks and ebooks from public libraries easy.
It's nice having a library at the tips of your fingers anytime of the day or night instead of having to visit a library in person during business hours.