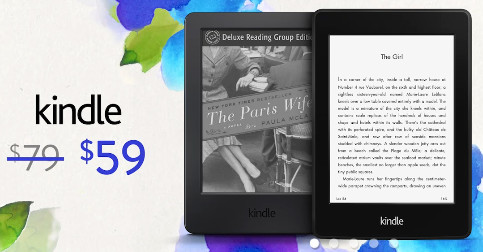 It's amazing how cheap ebook readers and tablets have become over the past few years.
Back in 2009 when the Kindle 2 was first released it sold for $369. If you think that's bad, the Kindle DX used to retail for $489.
Now it's possible to get a good inexpensive, multi-functional ereader for as little as $50-$70.
Barnes and Noble doesn't have the greatest reputation anymore, but their Nook tablets and Nook ereaders can get the job done, and the older models are very inexpensive.
The entry-level Kindle is another good option for a cheap ereader. It normally sells for $79 but it often goes on sale for $59, like this week. It has all the same software and reading features and the more expensive Kindle Voyage and Kindle Paperwhite, making it the most economical buy.
Below is a list of six ereaders for really cheap, covering the gambit from small, to color, to frontlit.
Cheap eReaders List
Kindle Touch for $59 – A Kindle Paperwhite for $99 is a better value if you need a frontlight, if not it's hard to argue with the entry-level Kindle at just $59 when it's on sale.
Nook HD: $55 Refurbished on eBay – $70 New on Amazon – The Nook HD makes for a good reading tablet because it has a high resolution screen and it even comes with Google Play installed to install a bunch of other reading apps.
Nook GlowLight for $65 – The latest E Ink Nook sells for $99 new from B&N, or you can get it refurbished $35 less, making it the cheapest option for a frontlit ebook reader.
Nook Touch for $39 – The original Nook Touch can be had new for just $40, and if you don't like the default software, it can be hacked into an E Ink tablet of sorts, and there's even a CM11 ROM in the works.
Sony PRS-300 for $25 – One of the cheapest E Ink ebook readers that money can buy is a refurbished 5-inch Sony Pocket Reader. It doesn't have a lot of features by today's standards, but coupled with Calibre it can get the job done.