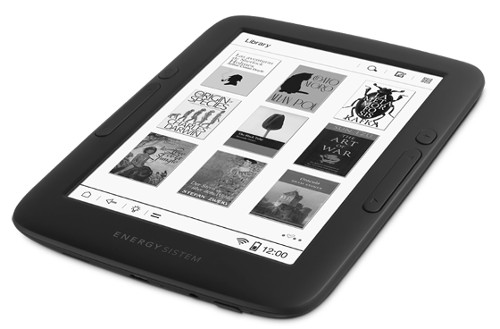 Energy Sistem has introduced an updated version of the Energy eReader Pro, called the eReader Pro +, that upgrades the screen from E Ink Pearl to E Ink Carta.
This is the same upgrade as the Boyue T62+, as they are the same device with different brands.
Carta screens are E Ink's newer display technology. Blacks are a little darker and the screen background is a little lighter in tone, improving overall contrast.
Honestly most people wouldn't be able to tell the difference between Pearl and Carta unless you had them both side-by-side, but it's always good to have better contrast, even if it's not a significantly noticeable difference.
Aside from the screen difference, the + model has all the same exact features and specs as the regular eReader Pro.
It runs Android 4.2.2 and supports Google Play, there's 8 gigs of internal storage space, a microSD card slot, frontlight, capacitive touchscreen, dual-core processor, and a headphone jack.
Check out my Energy eReader Pro review for more details about the device and to see a video walkthrough. Below is the link to the listing for the newer + model on Energy Sistem's website: