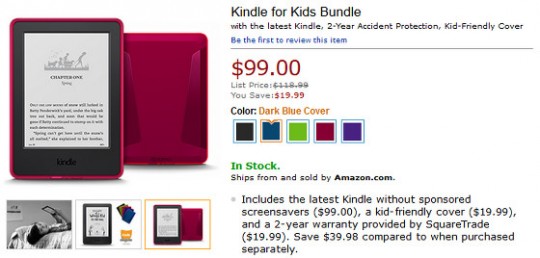 Amazon has just introduced a new Kindle for Kids Bundle that sells for $99.
The bundle includes the latest entry-level Kindle (the $99 one without advertisements), a kid-friendly cover, and a 2 year SquareTrade warranty.
The bundle is a good deal considering that it costs the same as a regular non-ad Kindle, so you're basically getting the case and an extra year of warranty service for free.
Plus the warranty covers accidental drops and spills, which is especially important since E Ink screens crack easily when dropped.
Unfortunately the Kids Kindle doesn't come with any added protection for the screen—it's just a regular Kindle touch (see review)—so the warranty is definitely a plus.
The cover adds a little protection to the back of the device. Amazon says it's designed to protect against "mild" impacts and scratches, nothing major. The cover also has a textured back to help kids with smaller hands get a better grip, according to Amazon.
The cover comes in five color choices: black, dark blue, green, dark pink, and purple.
On the product page for the Kids Kindle Bundle, Amazon highlights kid-friendly features like the Kindle's built-in vocabulary builder, the new Word Wise feature that helps gives suggestions for difficult word, the parental control features to limit shopping and web access, and how kids can track reading progress and earn achievement badges with Kindle FreeTime.
It's not surprising to see Amazon add a kid-friendly Kindle bundle to their E Ink Kindle line since they started offering a Kid's Edition Fire tablet last fall. But it is somewhat surprising to see them not offering a more durable cover to help protect the screen, the most fragile part of the Kindle. It's not going to survive being stuck in a backpack with the case that it comes with, that's for sure. But it's hard to argue with the $99 price since that's how much the non-ad model costs anyway.