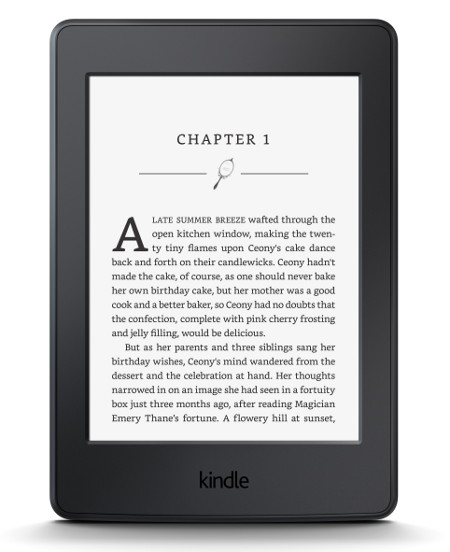 Amazon has just announced the upcoming release of an upgraded Kindle Paperwhite that features a 300 ppi E Ink screen.
The new Kindle Paperwhite is up for pre-order at Amazon. The official released date for the new device is June 30th.
What's especially nice about the upgrade is that Amazon is still using the old price structure for the Kindle Paperwhite.
The base Wi-Fi model with advertisements starts at $119, and the 3G + Wi-Fi model is $189. It costs $20 more for the non-ad models, and this time there's a WAN option without Special Offers for $209.
This is huge news. It looks like Amazon didn't like the idea of Kobo having the only low-cost 300 ppi ereader with the new Kobo Glo HD. The new Paperwhite is already looking to outshine the Glo HD with its lower starting price.
Aside from the addition of a 300 ppi display, the new Kindle Paperwhite for 2015 is still the same device as before.
Amazon is advertising a couple of new software features with the release of this new Kindle: the addition of their custom Bookerly font and the new typesetting engine that was announced last month that includes hyphenation, better word spacing, and things like kerning and drop caps.
One thing to note about the press release and product details page for the new Kindle Paperwhite is the fact that Amazon says it has twice as many pixels as the previous generation Kindle Paperwhite. There's some sneaky math going on there because the regular Paperwhite has 212 ppi. It's not double the ppi they're talking about, it's double the overall pixels on the entire display.
Needless to say, this leaves the Kindle Voyage in a precarious spot. For $80 more all it adds are page sensor buttons, an auto-adjusting frontlight (which never seems to adjust how I'd like it), and a flush front screen. They aren't really giving much extra for the big jump in price.