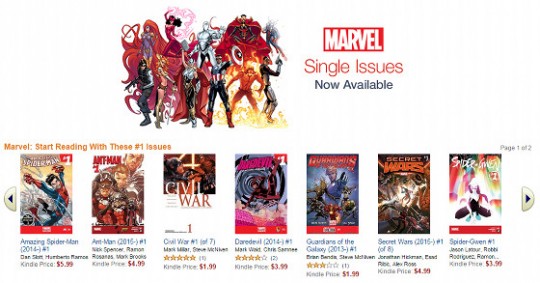 A couple days ago Marvel and Amazon announced a new way to buy Marvel comics—from the Kindle Store.
Previously comic book buyers had to use the Comixology app, but now over 12,000 single issue comics are available directly from the Kindle Store without needing to use a separate app or monthly subscription service to access them.
You may recall Amazon purchased Comixology last year. That's helped them take over a large portion of the digital comics market, and now they are expanding on it even more.
Not only are back issues available as part of the 12,000+ single issue comics, new titles will get added to the Kindle Store at the same time paper copies are released in stores.
In addition to being able to purchase single issues through the Kindle Store, Marvel is still going to offer their unlimited monthly subscription plan for $10 per month, but it only includes titles released outside the past six months. Scribd also offers some of Marvel's comics through their $9 per month subscription plan.
Comic books have been late to transition to digital format, but now things are finally starting to take off in the digital comics market. Being highlighted in the Kindle Store around the globe is only going to help sales increase with the tens of millions of Kindle tablets and Kindle apps in use.