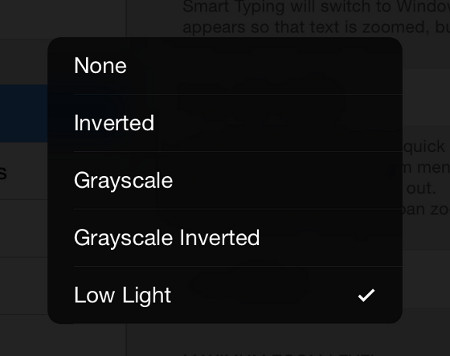 I recently stumbled upon a trick that makes reading on an iPad or iPhone at night a lot easier on the eyes. There are two things you can do: lower the screen's brightness beyond normal limits and/or use inverted colors.
This also reduces blue light so that it helps maintain healthy sleeping habits, as some studies have shown that exposure to blue light before bedtime inhibits melatonin production, which helps regulate sleeping patterns.
There are a number of blue light filter apps for Android devices, as well as computers.
Unfortunately Apple doesn't allow apps to make system wide changes so there aren't any blue light filter apps for iOS unless you have a jailbroken device, in which case you can use f.lux.
Luckily there are different screen filters that you can use as part of iOS 8's built-in accessibility features to make reading at night on the iPad and iPhone a more pleasant experience.
I've always had problems with the iPad's minimum brightness setting being too bright when trying to read at night with the lights off. But with the Low Light filter turned on it's much better.
The Inverted Colors filter is another good option because it reverses the colors of everything on the screen, using a lot more dark colors than bright white and blue.
There are two different ways to activate screen filters. You can set things up so that you can tap the screen three times with three fingers to bring up the "Zoom" menu to change filters. Or you can use the quicker option and setup a shortcut so that it turns the filter on and off with three presses of the home button.
Turn on Filters Using Zoom
To enable the option to use filters, you have to turn on "Zoom" in the accessibility menu.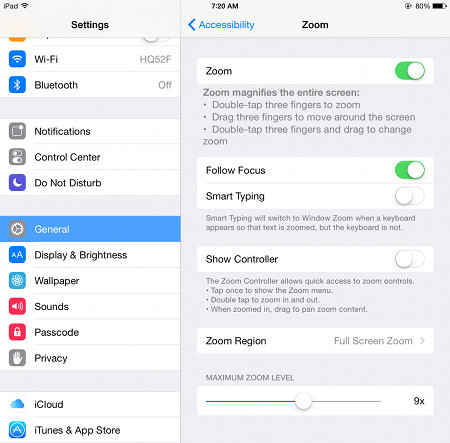 Go to Settings > General > Accessibility > Zoom.
Turn on Zoom.
Tap the screen three times with three fingers to open the Zoom menu box. You can use this to change the zoom level and select filters. Zoom out for full screen mode.
Choose the filter from the list that you want to use and then tap outside the box to close it.
Home Button Shortcut
Instead of having to use the three finger tap method to open and close the dialog box to choose filters, you can set the filter to automatically turn on and off with three presses of the home button.
Go to Settings > General > Accessibility > Accessibility Shortcut (it's all the way at the bottom of the list).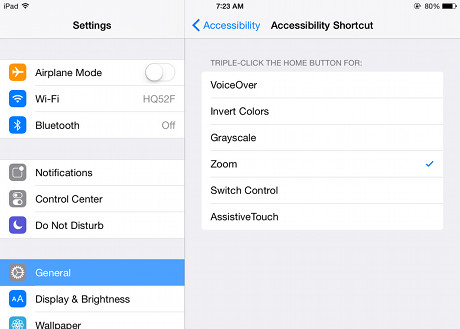 You can choose to select Invert Colors directly from the list. To use the Low Light filter, select the Zoom option. Just make sure the Zoom option is configured to use the Low Light filter as described in the steps above (it defaults to whatever you had it set to last).