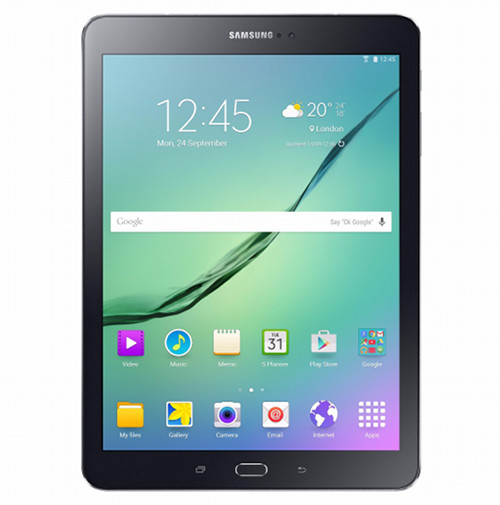 Yesterday Samsung issued a press release announcing the upcoming global release of two new tablets in the Galaxy Tab S2 line, and they just might be the best tablets ever for ereading.
There's a 9.7-inch model and an 8-inch model. Both feature high-end Super AMOLED displays with high pixel density and an iPad-like 4:3 screen ratio with a 2048 x 1536 resolution.
Both tablets are the thinnest and lightest tablets for their size range. At 5.6mm thick, the 9.7-inch model weighs 389 grams and the 8-inch model weighs 265 grams.
Other features include a metal frame, fingerprint scanner, they come preloaded with Microsoft Office Apps, and of course they include Samsung's multitasking feature that lets you have two app windows open at once.
Specs include a quad-core 1.9GHz processor, Android 5.0 Lillipop, an 8MP rear camera, 2.1MP front camera, Wi-Fi, Bluetooth 4.1, GPS, 3GB of RAM, 32/64GB of internal memory, and support for microSD cards up to 128GB.
These new tablets are basically premium versions of the Galaxy Tab A line released earlier this year.
Samsung is releasing a lot of tablets with 4:3 ratio screens lately. Samsung alludes on this a bit in the press release:
By recreating the same viewing experience of browsing through traditional print media, the Galaxy Tab S2 also makes it comfortable to read digital content, including e-books, magazines, webpages and newsfeeds. This reading-optimized ratio allows the user to enjoy a seamless reading experience without unnecessary scrolling.
Most Android tablet have 16:10 or 16:9 ratio screens. The iPad has always been 4:3, and it appears that Samsung wants to take a bite out of that market. Personally I've always felt that 4:3 is the better ratio for reading, especially in portrait mode, so it's good to see more options hitting the market.
In the press released they mention a "Reading Mode", which Samsung describes as a feature that adjusts the screen's brightness level to minimize eyestrain when reading for long periods of time.
The Samsung Galaxy Tab S2 tablets comes with different wireless and storage options. Models include Wi-Fi-only, and Wi-Fi and LTE, with storage options for 32GB or 64GB (good to see they ditched the 16GB option entirely). The Galaxy Tab S2 officially get released in August. Samsung didn't specify the prices in the press release but expect them to be pretty expensive, probably in line with the equivalent iPad models.
Samsung Galaxy Tab S2 Specs
Display: 8-inch model and 9.7-inch model, Super AMOLED
Resolution: 2048 x 1536(QXGA)
Operating System: Android 5.0 Lollipop
Processor: Quad 1.9GHz + Quad 1.3GHz
32/64 GB Flash Memory, 3 GB RAM Memory
MicroSD Card slot (up to 128GB)
Wi-Fi 802.11 a/b/g/n/ac MIMO (2.4GHz/5GHz), Wi-Fi Direct
3.5mm headphone jack
Bluetooth 4.1 BLE
GPS with Glonass
Sensors: Accelerometer, Finger Scanner, Gyroscope, Compass, Hall Sensor, RGB Sensor
Cameras: 8MP rear, 2.1MP front
Battery: 4000mAh 8-inch; 5870mAh 9.7-inch
Audio: MP3, AAC, AAC+, eAAC+, WMA, Vorbis, FLAC
Video: H.263, H.264(AVC), MPEG4, VC-1, WMV7, WMV8, VP8; Recording: QHD (2560×1440) @30 fps; Playback: UHD (3840×2160) @ 30fps