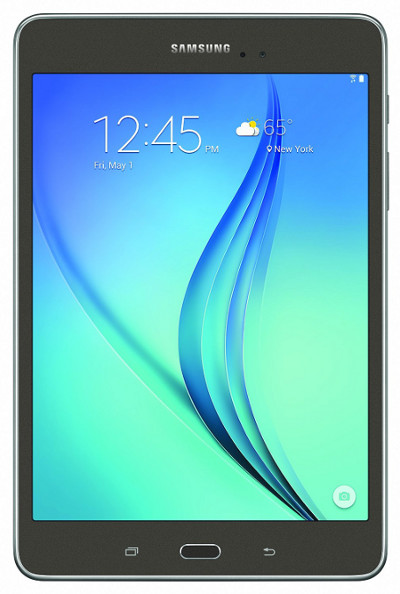 Samsung has another new set up Galaxy Tab tablets that are set to arrive next week. There's an 8-inch model and a 9.7-inch model. They are called Galaxy Tab A tablets.
They are available for pre-order from Amazon.com and other retailers, with an official release date of May 1st. The 8-inch model sells for $229 and the 9.7-inch model is $299. Both are available in three colors: smokey titanium, smokey blue, and white.
Samsung also announced a 9.7-inch model that will come with an S-Pen for $349 that will be released on May 17th.
These new set of tablets are perplexing. The A must stand for Apple because they are basically iPad clones, which isn't bad except they are clones of iPads from 3-4 years ago.
The 9.7-inch model has the same resolution screen as the original iPad that came out 5 years ago, and the same as the iPad 2 that came out 4 years ago, and the 8-inch model has the same resolution as the first iPad Mini that came out in 2012.
What's the deal with that, Samsung?
At first I thought these tablets would be good for reading because they use 4:3 ratio screens, but unfortunately the pixel density is just too low by today's standards.
With a screen resolution of 1024 x 768, the 8-inch model has just 160 ppi and the 9.7-inch model has 132 ppi. That's even lower than last year's Galaxy Tab 4 line, which have 16:10 ratio screens with 1280 x 800 resolutions.
I really liked the 7-inch Samsung Galaxy Tab 4 that I reviewed last year and was looking forward to reviewing another Samsung tablet this year, but it won't be from the A line.
The thing with Samsung is they release like 10 different models each year, so if you don't like what they currently have to offer, just wait 3 months and they'll have something new out.
Samsung Galaxy Tab A Specs
Display: 8-inch model and 9.7-inch model
Resolution: 1024 x 768 XGA
Operating System: Android 5.0 Lollipop
Processor: 1.2 GHz Quad-Core, Qualcomm APQ 8016
16 GB Flash Memory, 1.5 GB RAM Memory
MicroSD Card slot (up to 128GB)
WiFi – 802.11 a/b/g/n; 2.4GHz+5GHz, HT40
3.5mm headphone jack
Bluetooth 4.1
GPS with Glonass
Cameras:5MP rear, 2MP front
Battery: up to 11 hours; 4200mAh Li-Ion 8-inch; 6000mAh Li-Ion 9.7-inch