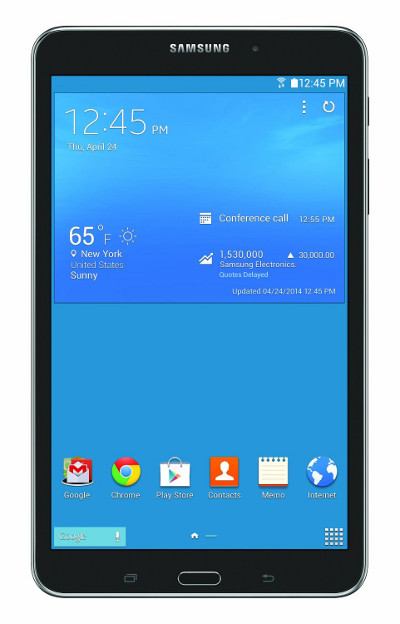 Samsung's somewhat puzzling line of new mid-level Android tablets will be released in less than a week, on May 1st to be specific.
All three Galaxy Tab 4 tablets are already available for pre-order from Samsung and Amazon starting at $199 for the 7-inch model, up to $349 for the 10-inch.
Samsung first unveiled their new Tab 4 series on April 1st, so there aren't any surprises as far as specs are concerned since we already knew what to expect, but the pricing structure hasn't been revealed until now.
The prices seem a bit high considering the specs, but that's not unusual for Samsung. Here's the breakdown on the Galaxy Tab 4 lineup of tablets:
Each is available in both black or white. All three models basically have the same exact specs aside from the screen and battery sizes. All have the same 1280 x 800 screen resolution, which isn't bad on a 7-inch screen, but is pretty weak on a 10.1-inch tablet.
They all run Android 4.4 KitKat and feature 1.2 GHz Quad-Core processors, with 1.5 GB of RAM and 16 GB of internal storage space, except the 7-inch model has 8 GB instead. All come with a microSD card slot for expansion, and all have a 3 megapixel rear-facing camera and 1.3 megapixel front-facing camera.
And of course the new Galaxy Tablets will come with the new Kindle for Samsung custom reading app, that includes one free ebook per month with Samsung's new Book Deal promo.