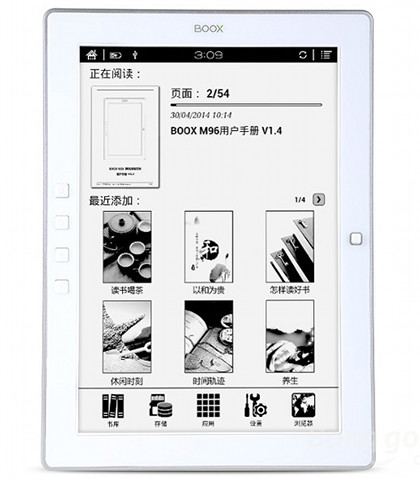 The Onyx Boox M96 is the only 9.7-inch ebook reader available on the current market, aside from older outdated models and a few obsure models only available in certain parts of Asia.
A lack of options doesn't usually equate to a lower price point since there isn't any competition to compete with, but in this instance the Boox M96 has gotten a price decrease from one retailer.
As noted in the Onyx Boox M96 Buyer's Guide, there are a few different places to buy the M96, and there are a few different sub-models.
In the U.S. the M96 has been selling for $339 since its release almost one year ago, and it never goes on sale.
But recently Banggood, a Chinese wholesaler, dropped the price of their White Boox M96 down to $318. And unlike the $339 M96 that's sold on Amazon, this one comes with a case included, which adds another $15-$25 to the overall savings.
The only downside with the imported M96 models are they usually don't come with Google Play preloaded to install Android apps, so they have to be rooted to manually add it, which takes some technical know-how. Or you can sideload apps or use an alternative appstore instead.
Regardless, the M96 runs Android 4.0.4 and the large screen size and included apps make it an exceptional PDF reader, one of the best on the market.
It can't compete with the likes of Kindles and Kobos in terms of high resolution screens and frontlights, but it's a lot more versatile than either of those in terms of software capabilities. It's good to see the price come down some, even if it's just a little. With the lack of competition for 9.7″ ereaders, it's unlikely that Onyx will be releasing a newer model anytime soon.
Here's the link to my M96 Review for a complete rundown on the device's features and specs, including a list of pros and cons.