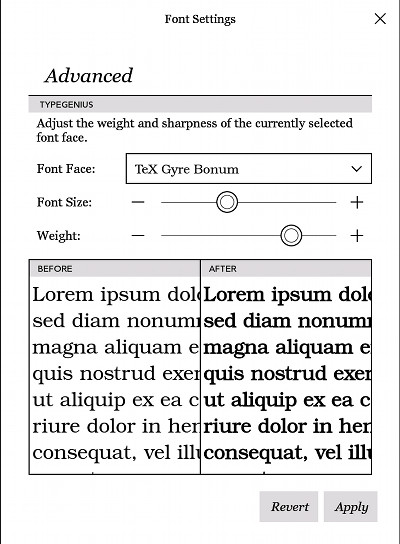 One of the cool things about Kobo's ebook readers is they aren't completely locked down like Kindles are, so users can make all kinds of customizations and changes to the software by adding various patches that developers have put together over at MobileRead.
One of my all time favorite customizations is the full screen fix. It puts a checkbox in the settings menu that gives you the option to turn off the header and footer from displaying if you don't like all the wasted space.
I just came across a patch that I didn't know about before. It's called "Freedom to advanced fonts control". What it does is it lets you use Kobo's advanced font control settings with sideloaded fonts.
Normally you can only fine-tune the weight and sharpness of Kobo's preloaded fonts using the advanced TypeGenius font menu. But with this patch you can customize the boldness/sharpness of your own sideloaded fonts as well.
The patch works with both OTF and TTF fonts, but it sounds like TTF fonts work more consistently. It's also noted that the patch no longer works using newer firmware with Japanese books or Japanese locale settings.
There are a bunch of other cool patches for Kobo's ebook readers too. Check out this Index to the Metazoa firmware patches thread at MobileRead for directions and links with everything you need to patch Kobo ereaders.