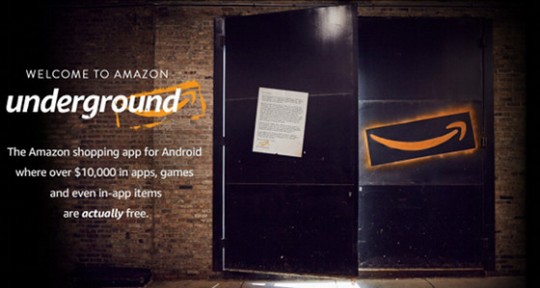 Ever since Amazon first launched their Android appstore back in March of 2011, they've been giving away a free paid Android app each and every day. After nearly four and a half years, that has finally ended.
Last week Amazon suddenly stopped doing the free app a day giveaways. Amazon didn't give any official explanation about it, but they replaced it with a new thing called Amazon Underground.
Amazon Underground is a new app for Android tablets and phones that is loaded with free apps and games that Amazon is marketing as "Actually Free".
According to Amazon, many apps that are advertised as free aren't really free because of things like in-app purchases. So Amazon Underground apps are supposed to be 100% free because they are using a new payment model where Amazon pays developers by minutes used instead of by in-app purchases.
Currently there are over 600 Underground apps available for free, with the number climbing each day.
Like usual there are a bunch of games, but you can also get a couple dozen free book and comic apps—the interactive books designed for kids. There are a few cookbooks and some education apps as well, among other things.
The Underground apps are automatically available on Fire HD and Fire HDX tablets, but the older Fire tablets aren't compatible with it, at least not yet, and it's unclear if they will be in the future.
With regular Android tablets and phones, you can download the Underground app from Amazon. For obvious reasons it's not available in the Google Play Store.
Amazon hasn't revealed much info about all this yet. They're probably waiting to give developers more time to update their apps and get them added to Underground. It's probably going to be apart of some big announcement when Amazon unveils the new tablets and other devices that they plan to release over the next couple of months.