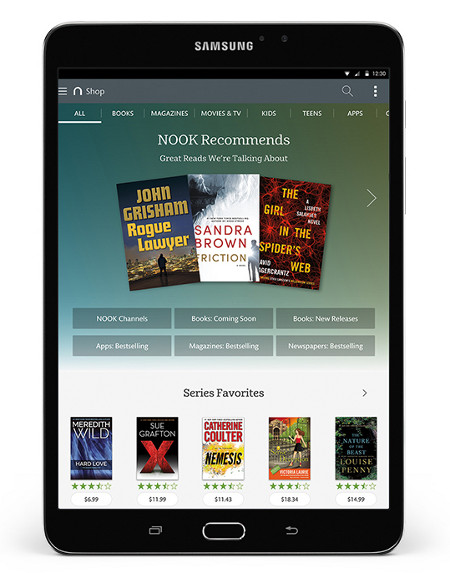 Barnes and Noble has announced the latest addition to their line of Samsung branded Nook tablets with the release of the Samsung Galaxy Tab S2 Nook.
The Tab S2 Nook is an 8-inch tablet with high-end specs. It has a Super AMOLED display with a resolution of 2048 x 1536 (320 ppi)—perfect for ereading. It's Samsung's thinnest and lightest tablet. It only weighs 9.3 ounces and is less than a quarter of an inch thick.
This coincides with the release of the regular Samsung Galaxy Tab S2 tablet, which is the same exact device minus B&N's preloaded apps (or bloatware, depending on how you look at it).
The tablet runs Android 5.0 Lollipop. It has an octa-core processor, 3GB of RAM, 32GB of storage space, a microSD card slot, front and rear cameras, and a fingerprint scanner for added security.
Battery life is an impressive 14 hours for video playback. The tablet also comes with Google Play, of course.
B&N's Nook branded version of the S2 tablet comes with a few perks, including the option to choose from some free Nook content, such as 3 books from a selection of 20, and three magazines from a selection of over 25 popular titles. Customers also get a $5 credit for the Nook store.
This is a really nice tablet, there's no question about it. But the $399 price tag is going to be too much for most people, especially with similar tablets like the Asus ZenPad 8 that sells for half the price. It's surprising that B&N has elected to go after the more competitive high-end market to compete with the likes of the iPad considering all the struggles they've endured in the tablet market.
You'd think that B&N would release one of the less expensive Galaxy Tab A models as well for a lower price point, but it looks like they're just going to keep the Galaxy Tab 4 Nooks around from last year instead as the lower-price alternatives.