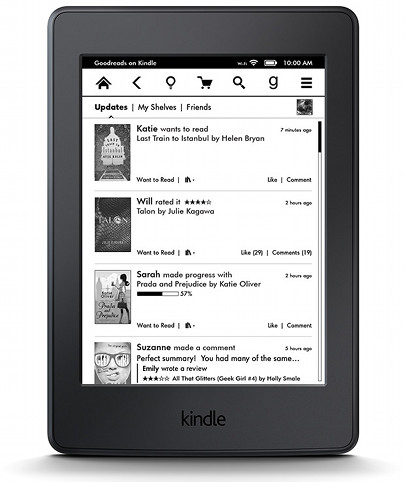 Goodreads and Amazon have announced that Goodreads integration is coming to Kindle ebook readers and Fire tablets in the UK and Ireland.
A software update will add the new Goodreads features to the Kindle Paperwhite (all models), the Kindle Voyage, and the current entry-level Kindle, as well as the confusing number of Fire HD and HDX tablets released over the past couple of years.
Amazon purchased Goodreads back in 2013. They started rolling out Goodreads integration to Kindle ebook readers and Fire tablets later that year.
Goodreads is available on Kindle devices in the US, Canada, Australia, and now the UK and Ireland.
Basically, Goodreads for Kindle lets users link a Goodreads account to their Kindle to get personalized recommendations, share notes and highlights, rate books, see what books friends are reading, etc.
More from the press release:
Share favourite passages with your Goodreads friends without leaving the book.
See what your friends are reading, read their reviews, and discover new books to read.
When you finish a book, immediately rate it without putting down your device.
Keep track of all your reading activity—update your "Currently Reading", "Read", and "Want to Read" shelves directly from your Kindle or Fire. Easily add your Amazon book purchases, print and digital, to your Goodreads account.
Here's an article from the Goodreads Blog with more details.