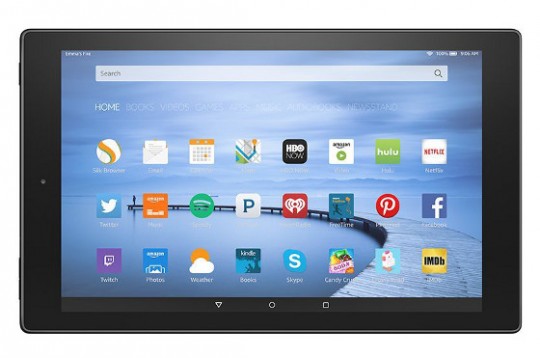 Amazon's new tablet line for 2015 adds tablets with different screen sizes to the Fire tablet family with new 8-inch and 10-inch models. They also add memory card slots, which is a big change from the way Amazon used to do things.
The Fire HD 8 starts at $149 and the Fire HD 10 starts at $229.
Both models basically share the same specs and features, with a few subtle differences between the two.
They are being marketed as Amazon's thinnest tablets ever at 7.7mm thick. Amazon is doing a lot of comparing with iPads in the marketing material. They claim the new Fire HD tablets are almost 2x more durable than the latest iPad Air.
The Fire HD 10 has an optional Bluetooth keyboard case for an additional $99.
As far as ereading goes, Amazon says the new Fire OS 5 will have a new speed reading feature called Word Runner. According to the press release, Word Runner gradually builds to your preferred reading speed and algorithmically and automatically slows down for difficult words, punctuation, and paragraph breaks.
The most disappointing thing about these tablets it they both have 1280 x 800 resolution screens, which is pretty low by today's standards. That's only 189 ppi on the Fire HD 8 and 149 ppi for the Fire HD 10.
That's kind of a bummer, and it negates some of the other good qualities and raises questions about the price.
In my opinion, the 10-inch Lenovo Tab 2 10 is a much better tablet than the new Fire HD 10. It has a higher resolution screen, Android 5.0, longer battery life, GPS, and it costs $30 less.
The price of the 8-inch model is a bit questionable too. There are lots of similar options in that price range for an 8-inch tablet. And for $50 more there's the Asus ZenPad 8 with 320 ppi, 32GB of storage space, 2GB of RAM, and Android 5.1.
Compared to the new $49 Fire tablet, these ones just don't have the same kind of low cost appeal.
Fire HD 8 Specs
8″ IPS Display
1280 x 800 (189 ppi) resolution
MediaTek Quad-Core processor: 2 @ 1.5 GHz + 2 @ 1.2 GHz
1 GB of RAM
8GB/16GB storage space
MicroSD card slot for cards up to 128GB
720p front-facing HD camera; 5 MP rear-facing HD camera
Dual-band Wi-Fi a/b/g/n/ac
Bluetooth
Dual stereo speakers
Microphone
Accelerometer, gyroscope
3.5 mm stereo jack
Colors: Black, Magenta, Blue, Tangerine
Battery life: up to 8 hours
Weight: 11.0 ounces (311 grams)
Dimensions: 8.4″ x 5.0″ x 0.3″ (214 x 128 x 7.7mm)
Fire HD 10 Specs
10.1″ IPS Display
1280 x 800 (149 ppi) resolution
MediaTek Quad-Core processor: 2 @ 1.5 GHz + 2 @ 1.2 GHz
1 GB of RAM
16GB/32GB storage space
MicroSD card slot for cards up to 128GB
720p front-facing HD camera; 5 MP rear-facing HD camera
Dual-band Wi-Fi a/b/g/n/ac
Bluetooth
Dual stereo speakers
Microphone
Accelerometer, gyroscope
3.5 mm stereo jack
Colors: Black or White
Battery life: up to 8 hours
Weight: 15.2 oz. (432 g)
Dimensions: 10.3″ x 6.3″ x 0.3″ (262 x 159 x 7.7mm)