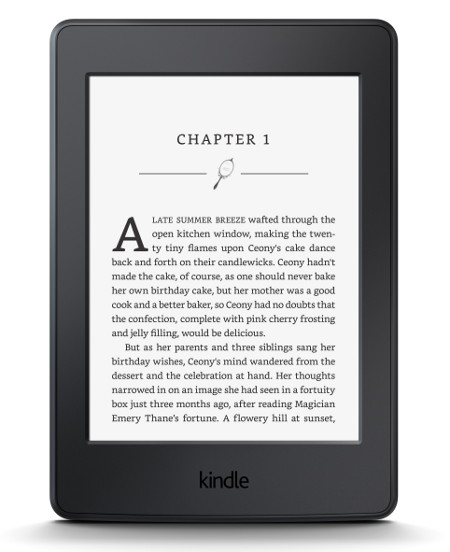 Amazon will start shipping their new Fire tablets early next week, including the ultra cheap $49 Fire. But what about new Kindles?
Amazon hasn't officially announced any new Kindle models for 2015 yet, other than the Paperwhite 3 that was released back in July, but it just got an upgraded screen so that can hardly be considered a new model.
And the thing with the Kindle Paperwhite is it has basically remained unchanged since it was first introduced back in 2012.
It's gotten some upgraded parts along the way but it's still essentially the same model with the same exact design and functionality as the original.
That's part of the reason why I think a new Kindle Paperwhite is due to get released soon.
I'm going to make a rather bold prediction. Perhaps it's just wishful thinking, or the fact the ereader market has grown stagnate and boring over the past couple of years.
I predict that Amazon will soon announce a new Kindle Paperwhite with a 6.8-inch E Ink Carta screen with a 1430 x 1080 resolution (265 ppi). Other than the larger screen, the 6.8-inch Paperwhite will have the same exact specs as the Paperwhite 3.
This would make sense on so many levels. First, Amazon's main ereader competitor is Kobo, and they've long offered 6.8-inch ereaders with the Kobo Aura HD and the Kobo Aura H2O. Both have proven to be popular models at that size.
Another reason that Amazon needs a 6.8-inch Kindle Paperwhite is simply for variety. There are too many 6-inch ereaders. Amazon has released tablets with just about every screen size possible: there are 6″, 7″, 8″, 8.9″, and 10.1″ Fire tablets. So why would they only offer a 6″ Kindle?
Also the current price structure for Kindle ereaders leaves a huge price gap of $80 between the Paperwhite 3 and Kindle Voyage. There needs to be another option in between them at $159. That would be the perfect price for a 6.8-inch Paperwhite, which would really be $179 without ads, the same exact price as the Kobo Aura H2O.
The Kindle Voyage has proven to be a slow seller based on the number of reviews and its lack of presence on the best seller lists at Amazon. The high price is part of the problem, but the bigger problem is it doesn't offer enough advantages over the Kindle Paperwhite to get people's attention. A Kindle with a larger 6.8-inch screen is going to attract a lot more attention simply because it's new and different, and it's going to give people who already own Kindles a reason to upgrade to a larger screen.
Ultimately an 8-inch Kindle Paperwhite would be even better, but I don't think that will happen for two reasons. First, the price would have to be too high. Second, frontlights have been shown to be more uneven and blotchy on larger screens. Unless they get that figured out, that's a big problem. With 6.8-inch screens it's much less of an issue, especially considering Kobo's screens look really good in that respect.
It would be a big mistake for Amazon not to release a 6.8-inch Kindle at this point in time. It makes the most sense for the Kindle line moving forward.