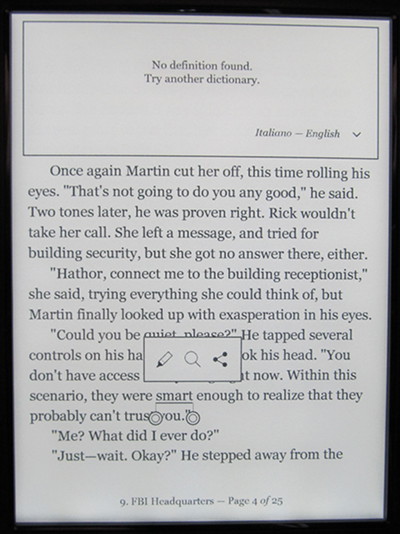 Something that has been bugging me for a long time now is the fact that the translation dictionaries on Kobo's ebook readers don't work very well.
It seems like half the time I select a word to be translated it just says, "No definition found. Try another dictionary."
So basically what Kobo is telling me is there is no French word for "enough" or "realize". In fact the word "enough" isn't translatable into any of the five available languages, according to Kobo.
The words "scenario" and "start" also do not translate. These are just four random words from a line in an ebook that I chose for this test.
Then I try to look up even simpler words like "to" and "up", and that doesn't even work. It just says things like "t" is the 20th letter in the alphabet. Seriously. For Italian, it gives the translation for TV.
Someone over on YouTube asked this morning if Kobo's translations work offline, unlike the Kindle's instant translation feature that requires an internet connection because it uses Bing translator. Yeah, they work offline all right, but it depends on what your definition of "work" is because they clearly don't do a very good job of translating words.
Update: Nothing to see here, folks. It turns out I was mistakenly doing things the opposite way. The dictionaries that translate from English have to be downloaded from the dictionary section in settings. The default dictionaries only translate to English. I was thinking it was the other way around.